A University Don Advocate Positive Life Style Adjustment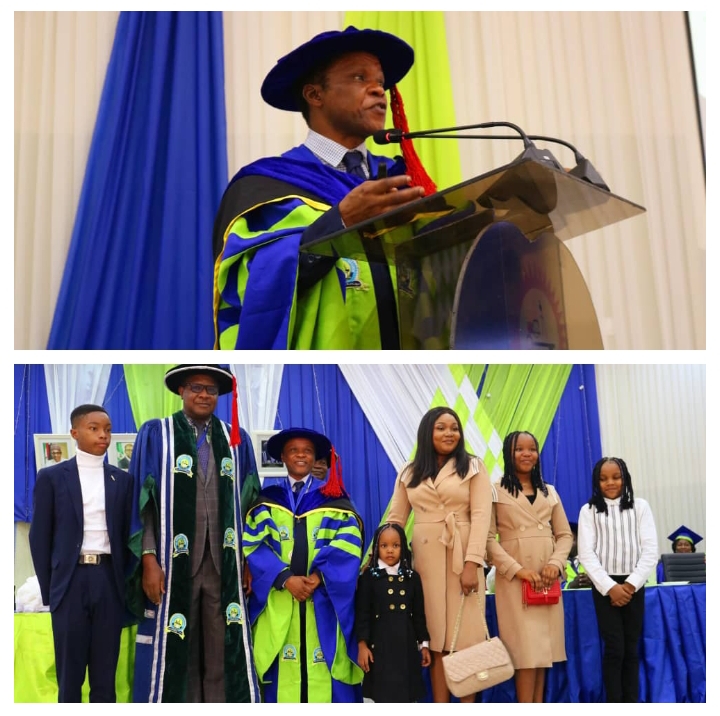 By Simeon OSAJIE
Prof. Anthony Obioma Nwaopara of the Edo State University Uzairue have recommended a positive life style adjustment for those experiencing inordinate craving for particular foods or unhealthy diets.
google.com, pub-3120625432113532, DIRECT, f08c47fec0942fa0
Prof. Nwaopara made the recommendation while delivery the 6th public lecture series of the university titled "The Brain And Human Cravings: Inquests On Diet Induced Neurodegeneration" said people should include efforts that encourage disentanglement from detrimental self-indulging convictions about particular foods.
Nwaopara who is a Professor of Anatomy and the Deputy Vice Chancellor (Administration) of the university also advised people to avoid undue social-class pressures that encourages negative group-driven behaviour like emotive or sympathy eating and drinking.

According to him, "We should be determined to eat balanced diets that are periodically complemented with our healthy exercises and fruits/vegetable regiments."
The DVC (Admin) further stated that it is important to note that neurovascular disorder encompasses those conditions that result in cerebrospinal ischaemia, infection and hemorrhage as various vascular and perenchymation changes have been associated with vascular anomalies.
Prof. Nwaopara said Neurodegeneration is cascade of events involving the progressive loss of nerve cell structure and function and subsequently the death of the cell as a result of the exposure to nerve cell toxins, infections, hypoxia and defect in metabolic processes.
He said, "We desired the best in life and basically strive for five basic needs, food, water, clothing, shelter and electricity and also we desired good health and good living. our overall daily struggle is simply to live a comfortable and fulfilled life and satisfaction which varies among individuals depending on the circumstances but the self-destructive manner by which some individuals deal with the satisfaction factor even when it is to the detriment of their health and overall wellbeing calls for concern".
"Hence, many go over-board in their quest to acquire or even consumed what they really don't need and the manner by which some individuals manage their instinctive desire irrespective of the attendant consequences several health related challenges that includes the rising incidence of mental health issues and debilitating disease, some of which have been tagged 'idopathic' meaning 'no know cause'.
"The anatomy Prof. therefore enjoined people to reduce too much consumption of suya as it is usually prepared from red meat source.
"Eating suya prepared from red meat can increase one's chance of dying from various diseases like cancer, diabetes, heart disease and Alzheimer's disease, this suicide-like trajectory is unequivocally scary and should no longer be ignored".
In conclusion he said, it is obvious that the decision we make regarding what and what not to eat or drink is a delicate as the task of choosing either a moderated life style in good health or a pleasure-enhanced death after an excruciating debilitating disease experience.
He said whether the argument might be, the truth is that whether we eat or drink is not only determined by our economic status but by several other non-ecomonics determinants which in turn influence our brain's decision trajectory particularly towards satisfying our craving instincts.
Earlier in his address, the Vice Chancellor of the university, Engr. Prof. Emmanuel Aluyor said that Edo State University Uzairue since inception has taken her pride of place in the educational ecosystem.
He said as a young university, we have been able to achieve wonderful milestones within the few years as it has been able to carve a niche for herself in the way she has been able to infuse technology in the delivery of her courses through the use of CANVAS Learning Management System (LMS)in the day to day learning experiences.
He restated that the university has qualitative curricula in place with competency based in Medicine and Engineering as the learning at the university is students centered.
"One of our university's tradition is the delivery of Inaugural Lectures by senior academics which is indeed an avenue for seasoned academics to give a steward of their research", he emphasized.
Prof. Aluyor however congratulated Prof. Nwaopara for delivery the 6th public lecture series of Edo State University Uzairue.