WHO At 75: Get Vaccinated, Immunize Children Against Preventable Diseases – Edo Govt Urges Parents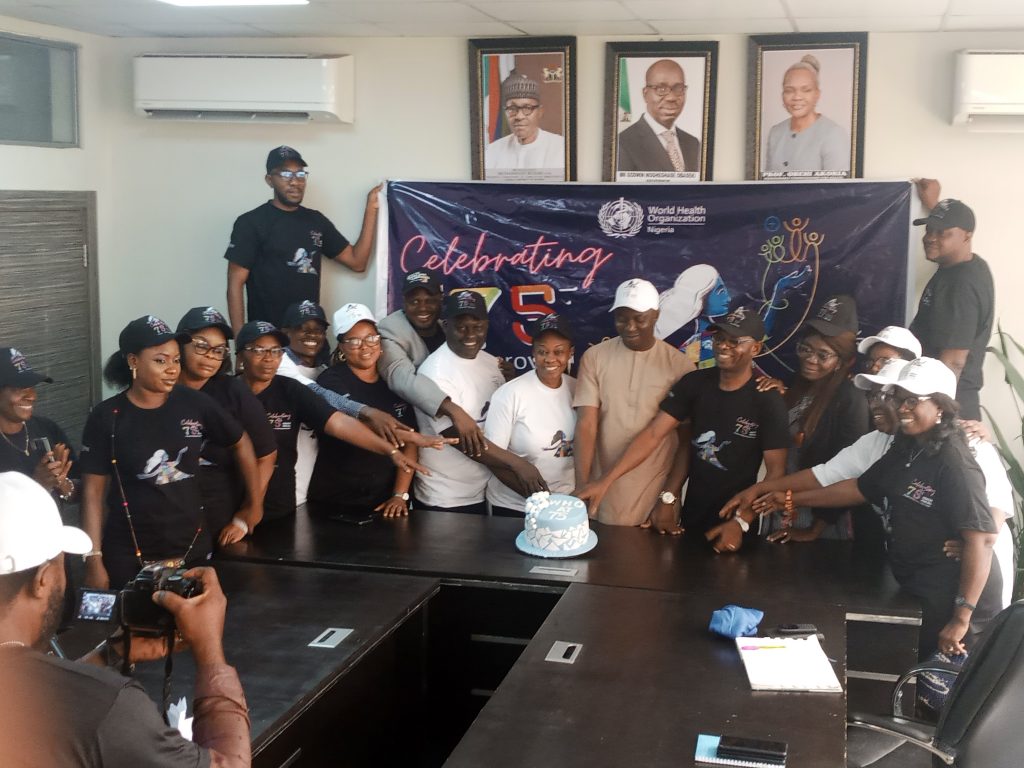 By Simeon OSAJIE
As the world celebrates World Health Organization (WHO) 75th Anniversary, Edo State government has urged everyone to take advantage of this opportunity to get vaccinated and immunize the children too and protect against preventable diseases. Vaccination is one of the most effective ways to prevent the spread of infectious diseases, and we encourage everyone to get vaccinated to protect themselves and their families.
google.com, pub-3120625432113532, DIRECT, f08c47fec0942fa0
While addressing newsmen today in Benin City, Edo State capital, the Permanent Secretary, State Ministry of Health, Dr. Stanley Ehiarimwian said, that the occasion is aimed at improving public health and the theme for this year's event is: "Health For All."
According to Dr. Ehiarimwian, "On 7th April, 1948, countries of the world came together and founded WHO to promote health, keep the world safe an serve the vulnerable, so everyone, everywhere can attain the highest level of health and well-being. This celebration grants us the opportunity to reflect on the successes that have improved the quality of life in the past seven decades and also affords us the opportunity to tackle the health challenges of today and tomorrow. The following successes have been achieved by WHO.

"Protecting people from pandemics: During the past decades, WHO has been at the frontline of all major health emergencies: from cholera and Ebola to avian flu (H5N1), deadly SARS and the COVID-19 pandemic.
"Alleviating deadly diseases: One of WHO's key missions is to prevent, alleviate and stop the spread of deadly infections. WHO certified smalllpox eradicated In 1980. In the early 2020s, the world is on the brink of eradicating 2 other damaging diseases: polio and guinea worm. The Global Polio Eradication Initiative has partnered and supported efforts that have helped achieve 99.9% reduction In the spread of polio.
"Peace for health, health for peace: WHO plays an often invisible role in negotiating humanitarian and health services during wars and conflicts. Since the 1980s, WHO has been implementing "Health as a bridge for peace" projects in Africa, Asia, Europe and Latin America, delivering humanitarian interventions in conflict settings. With WHO's help in 1990s, warring regions in Bosnia agreed to allow the free movement of ambulances and emergency medical care, continue polio vaccinations and tuberculosis and HIV campaigns.
"Guiding policy and standards for health: WHO is the global authority for the issuance of policies and guidelines to improve people's health.
"Preventing diseases through vaccinations: WHO has played a pioneering role in delivering vaccinations to prevent diseases, The Organization established its Expanded Programme on Immunization In 1974, to support the introduction of childhood vaccines across the world, targeting multiple diseases at the same time, leaving no one behind. We now have vaccines protecting us from more than 20 life-threatening diseases, helping people of all ages live longer, healthier lives."
Going further, the Permanent Secretary added: "Climate change is the biggest health threat facing humanity today. It impacts air quality, drinking water, food supply, sanitation, shelter, and the environment as a whole. WHO Promotes better data, science, policy and governance for improved management of environmental health risks and their impacts.
"Others include saving the lives of mothers and children, caring for those who take care for us, tackling non-communicable diseases and mental health, addressing antimicrobial resistance, and WHO is guided by science and innovation."
Dr. Stanley Ehiarimwian opined that WHO has been addressing key challenges for its mission: spearheading efforts to improve social conditions so that people are born, grow, work, live and age with good health.
"Edo State government has partnered with WHO as an organization to improve public health and well-being of our people. I am proud to be part of a government that has made significant investments in the health sector, with the aim of improving access to quality healthcare for all. Through our collaboration with the World Health Organization, we have been able to implement a number of successful initiatives that have had a positive impact on the health of our people.
"In 2018, the Lassa Fever outbreak response was termed the best in the country. The state was declared polio free in 2020 and since then, no child has been paralyzed by the polio virus.
"Since 2020 till date, the state has partnered with WHO in the area of Covid 19 response. In 2022, Edo state was pronounced the best routine immunization performing state in the SSZ. Other areas of collaboration include extending services to the underserved population.
"Other laudable initiatives implemented by the Edo State Government that have improved health of Edolites include health protection for EDOHIS enrollees. Also, in the environment, major erosion control works has mitigated factors that affect health in our communities. The State is embarking on green environment. to mitigate effect on climate change.
"As we mark this milestone, it is important to recognize that there are still significant health challenges facing our communities. From infectious diseases like COVID-19, Lassa Fever to non-communicable diseases such as diabetes and hypertension, we must work together to ensure that everyone has access to the healthcare services they need to live healthy and productive lives," he said.
On the activities lined up to marks 75th Anniversary of WHO, Dr. Stanley Ehiarimwian the ministry have planned a series of activities aimed at raising awareness about the importance of achieving health for all. These activities, he said include free medical check-ups, and community outreach programs aimed at educating the public about healthy living and reaching the underserved.
In addition, he opined that the Ministry will be utilizing this event to enroll more people into our health insurance scheme. This is to ensure that everyone in Edo State has access to quality healthcare services, regardless of their ability to pay. This scheme will provide financial protection to families, and ensure that they do not have to choose between accessing medical care and other basic needs. We are committed to expanding the coverage of this scheme, and we urge everyone to enroll and take advantage of this opportunity.
"We will be optimizing vaccination and immunization during this event. We urge everyone to take advantage of this opportunity to get vaccinated and immunize the children too and protect against preventable diseases. Vaccination is one of the most effective ways to prevent the spread of infectious diseases, and we encourage everyone to get vaccinated to protect themselves and their families."
The Permanent Secretary then admonished all to commit his or her self to the goal of achieving health for all. "Let us continue to work together with the World Health Organization and other partners to build a healthier and more equitable world, where everyone has access to the healthcare services, they need to live happy productive and healthy lives."