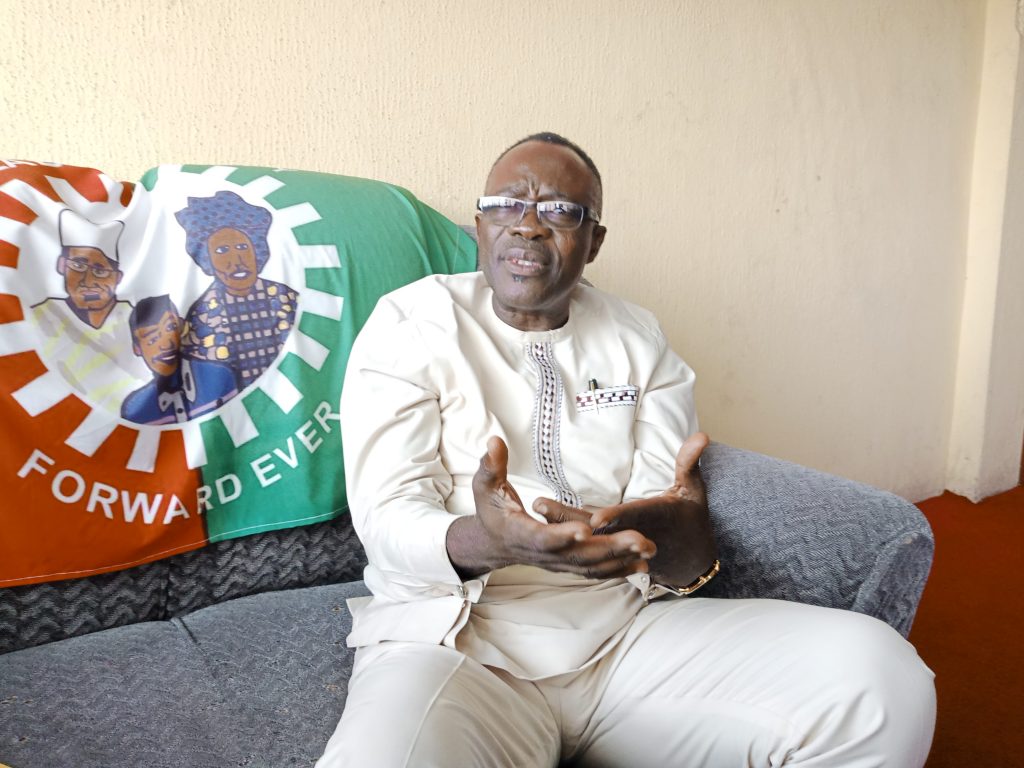 By Simeon OSAJIE
The Edo State chapter of Labour Party (LP) has called on Independence National Electoral Commission (INEC) to cancel the Re- run elections which the party described as a charade.
google.com, pub-3120625432113532, DIRECT, f08c47fec0942fa0
Speaking to journalists in Benin City, Edo State capital, State chairman of the party, Comrade Kelly Ogbaloi said that the Re-run elections held in some parts of Edo state yesterday (Saturday 15 April) was flawed by irregularities.
Ogbaloi observed that so many of their supporters were disenfranchised by members of the ruling People's Democratic party (PDP) agents and therefore call the Independent National Electoral Commission (INEC) to cancel the Re-run elections which he described as a charade.

"We have come to disassociate ourselves as Labour Party a member from the charade of re-run elections in Oredo East as that was totally not an election as it was a show of brigandage and demonstrations of outright violence as voters were not allowed free access to the venues of the elections.
"An election where we as members of Labour Party were not allowed to participate cannot be said to be an election.
"In Ward 1, some of the Labour Party officials and voters were beaten up and some of them are lying in hospital beds as we speak. It cannot be imagined that the gates of the venues where elections were supposed to be taking place were locked only to be opened to members of only People's Democratic Party (PDP) members only.
"A situation where the gates of the venue where a re-run election is taking place is shut against members and supporters of a particular political party and in the venue, it is only officials and members of the PDP and PDP government officials that are allowed into the venue and whenever any other person approaches the gates of the arena, they are asked which political party they belong and if the response is not PDP, such person is beaten and driven away and in some cases where our members were able to go through the gates, if it is eventually discovered that such individuals voted against PDP candidates, such persons were beaten up.
"In such similar circumstance in Ward 12, in Agbado Primary school, one of our voters who was being beaten in an attempt to run for his dear life was knocked down by a vehicle and presently is lying critical in an undisclosed hospital in the Benin metropolis.
"At Ibhiore in Ugbor, the gate to the venue of voting was shut and few of our members who were able to get in were beaten and thrown out of the venue.
"Also at Ugbor market, fierce looking men were manning the gates to chase out members and supporters of labour party out with the aim of not allowing them to cast their votes.
"At Obhegie same circumstance played out and our members and supporters were not granted access to come near the voting venue.
"If in all of these places we were not allowed to participate in the election, what manner of elections can you then call this?" he said.
Going further Ogbaloi added: "So, we are drawing the attention of INEC and the general public to the massive irregularities that marred that exercise which cannot be described as an election and therefore we asked that all the re-run election in Oredo East should be cancelled as the re-run election was an exercise entirely ran by the PDP and Edo state PDP government officials and so we as members of the labour party, we are calling for outright cancellation of all the exercise and another date be set aside and the election be monitored and supervised by INEC.
"We also want to use this medium to notify INEC that during the last elections, the votes counted for Labour Party was short changed with about two thousand votes which was a clear mistake on the part of INEC and I am aware that INEC is making effort to correct that anomaly and we ask that they expedite action towards that direction as it is a matter of right not privilege because that election was clearly won by labour party and they should try to make sure that all the necessary corrections are made and in the case of Egor and Oredo, Labour Party won the elections there and there was therefore no need for a re-run in these two places.
"We want to let the whole world know that the re-run of yesterday 15th April, 2023 is being run and stage managed by the Edo state PDP and the government of the day and as such falls below the INEC recommendations and should therefore be cancelled as it is shoddy and nothing to go by and the results cannot be accepted by Labour Party.
"We as Labour Party were not part of the elections as we were not allowed to participate and therefore INEC must consider what next to do in this circumstance and we advise that INEC cancelled this exercise and re-schedule another re-run where the law enforcement agencies and INEC itself would be prepared to make adequate provisions for the smooth and safe re-run where all the political parties would be guaranteed equal fair play ground for unrestricted participation."