Edo Partners OnTIME Consortium To Reduce Maternal, Prenatal Mortality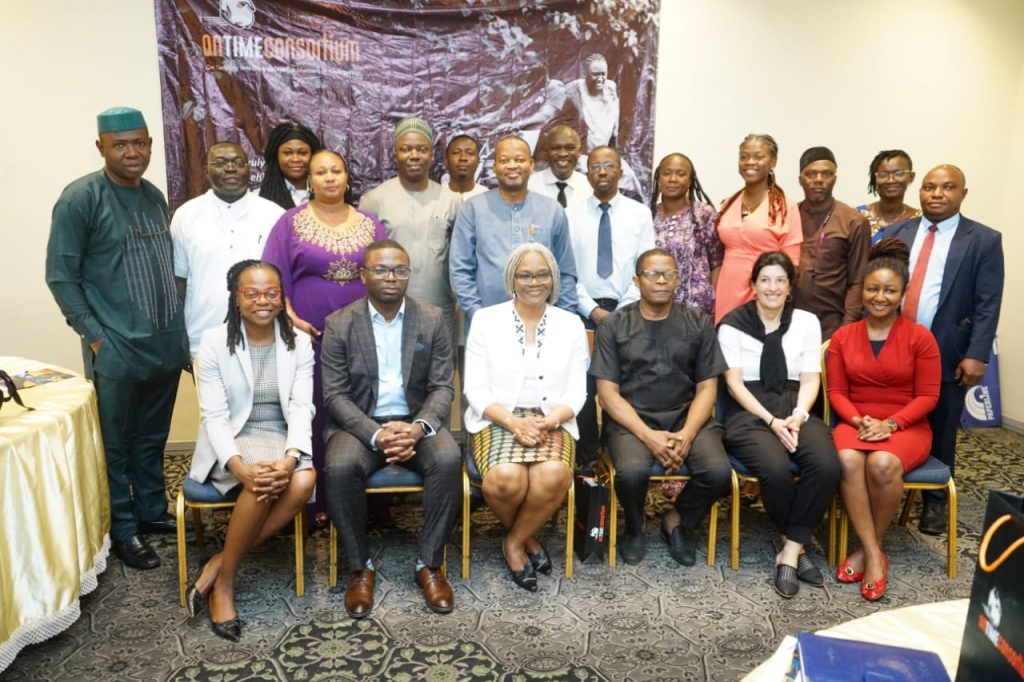 By Simeon OSAJIE
Stakeholders in health sector in Edo State have met with OnTIME Consortium to identify hurdles and challenges hindering expectant mothers from accessing timely healthcare in order to proffer solutions to them to ensure pregnant women have access to emergency Obstetrics Care (EmOC) when needed.
google.com, pub-3120625432113532, DIRECT, f08c47fec0942fa0
OnTIME Consortium is an innovative collaboration where research, policy making and big tech intersect to proffer solutions to challenges faced by expectant mothers and their caregivers.
The team show cased the digital dashboard created by Google who are the sponsors of the OnTIME project.

The dashboard provides the first comprehensive understanding of how long it takes pregnant women to get to the nearest facility with the necessary capacity for EmOC, how to optimize the data provided by the dashboard to the benefits of pregnant women and improving healthcare delivery in Edo was the hone of discussion at the event.
Edo State Commissioner for Health, Prof. Obehi Akoria expressed delight at the development. In her words "we are glad because this is another partnership that will lead us to our desired destination of integrating technology to drive improvement in not just the quality of care that is provided and access to that care, but the outcomes from the access, this partnership focuses on access for pregnant women to emergence obstetrics care this is a good one for us."
Going further, Prof. Akoria added, "Ownership is key because without ownership much cannot be achieved we at Edo State Ministry of Health and the health sector in general need to accept and use the tool made available to us to drive policy and to plan for our people to improve access to care, that is why people were carefully selected the discussion is on how we are going to use the dashboard with the information it provides within and between agencies in the state and get more partnership to improve access to healthcare.
"What most people fail to realize it that health is not about healthcare, the access to the healthcare is paramount, that is why my colleague in other ministries will support me to use the data from the dashboard to intervene in the problems that we will identify to make the experience of child birth better for our women.,"
Earlier while 'opening of the black box to travel to receive Emoc in urban Africa', Dr. Aduragbemi Banke-Thomas, Principal Investigator, OnTIME Consortium, stated that maternal and perinatal morality are massive challenges in the health sector.
According to WHO, approximately 830 women die from preventable causes related to pregnancy, the burden is significantly high in Africa with Nigeria contributing 30%, this he said necessitated a comprehensive research by the consortium which showed that for many pregnant women access to healthcare was a challenge, hence the introduction of the dashboard which offers effective tool to support evidence based decision making by policymakers and service planners to improve geographic accessibility to EmOC and ultimately reduce maternal and perinatal mortality.
Giving the assurance of implementation, Prof. Akoria stated that there are six pillars of strong health systems one of which is leadership and governance, yesterday this team was with His Excellency, in spite of his scheduled and short notice, he made out time to discuss with them and he gave full assurance that Edo State will open its hands widely and we at the Ministry of Health are particularly interested and passionate and will ensure that all hands will be on deck to have a workforce that is committed to seeing this through, to see to it that this is not just a talk but will be backed up with action and hope to set up a monitoring framework to see that this is backed up with action. We are fully committed.'
Other Dignitaries in attendance included the Chief Medical Director University of Benin Teaching Hospital UBTH Prof. Darlington Obaseki, Director-General Edo State Health Insurance Scheme EDOHIS Dr. Rock Amegor, Managing Director, Information Communications Technology, Mr. Goodluck Igbinedion and Permanent Secretary, Ministry of Health Dr. Stanley, Permanent Secretary Hospital Management Agency, Dr. Asuien, Directors of various Departments in the Ministry of Health as well as relevant stakeholders in the Health system in the state.
High point of the meeting was an open discussion centered on how the dashboard will benefit healthcare system in the state as well as the improvement on the dashboard to better fit the Edo health sphere.
In addition, an implementation management team was set up to ensure that the data dashboard transits into policy in the state.