Suspended EFCC Chairman, Bawa In DSS Net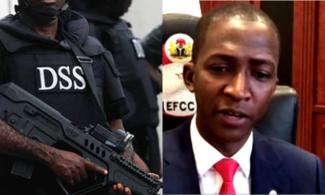 By Simeon OSAJIE
The Department of State Services, (DSS), has arrested the suspended Chairman of the Economic and Financial Crimes Commission, EFCC, Mr. Abdulrasheed Bawa for questioning.
google.com, pub-3120625432113532, DIRECT, f08c47fec0942fa0
A statement issued and signed by the agency's Public Relations Officer, Peter Afunanya, confirmed Bawa's presence at DSS office.

Afunanya said, "Bawa arrested is based on some investigative activities concerning him."
Recall, Bawa was earlier in the day suspended by President Bola Tinubu over weighty allegations of abuse of office levelled against him.
He was directed to immediately hand over the affairs of his office to the Director, Operations in the Commission, who will oversee the affairs of the Office of the Chairman of the Commission pending the conclusion of the investigation.