AFCON23Q: Super Eagles Arrive Monrovia For Sierra Leone Encounter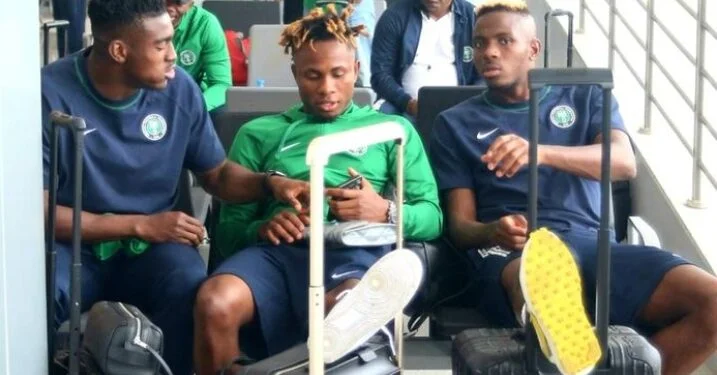 By Simeon OSAJIE
Super Eagle of Nigeria has arrived Monrovia for Sierra Leone clash. Aside the players, the aircraft conveyed a contingent of technical and administrative staff and a few other officials led by President of NFF, Alhaji Ibrahim Musa Gusau.
They later landed at the Roberts International Airport at noon, and were received by the Ambassador of Nigeria to Liberia, Godfrey A. E. Odudigbo, the Head of Chancery, Ms Stella Ahumibe and a few other mission staff.

google.com, pub-3120625432113532, DIRECT, f08c47fec0942fa0
There were also members of the Nigerian community in Monrovia, led by Deacon Harrison Anikwu as well as officials of the Liberia Football Association.
Presently, Nigeria is second in the pool with nine points from four matches, a point behind Guinea Bissau, who have played five matches and reached the top following their defeat of Sao Tome on Wednesday.
Victory for the Eagles today will lift them back to the top of the pile and guarantee presence at the 34th Africa Cup of Nations to be staged in Cote d'Ivoire next year.

Historically, Nigeria defeated Sierra Leone home and away (1-0 and 4-0) in the qualifying series for the 2010 FIFA World Cup finals in South Africa, and then defeated the Leone Stars 2-1 in a friendly match in Lagos in February 2011.
In a WAFU Cup encounter in September 2017, the Eagles were 2-0 winners.
Both teams clashed twice in the qualifying series for the 2021 Africa Cup of Nations, with the Leone Stars coming from 1-4 down to draw 4-4 in Benin City, and then forcing a 0-0 draw in Freetown.
In this campaign, the Eagles came from behind to defeat the Leone Stars 2-1 at the MKO Abiola Stadium in June 2022, on the opening day of the series.