Pa Anthony Edebiri Allegedly Buried Two Years Ago Reburied Amid Right Security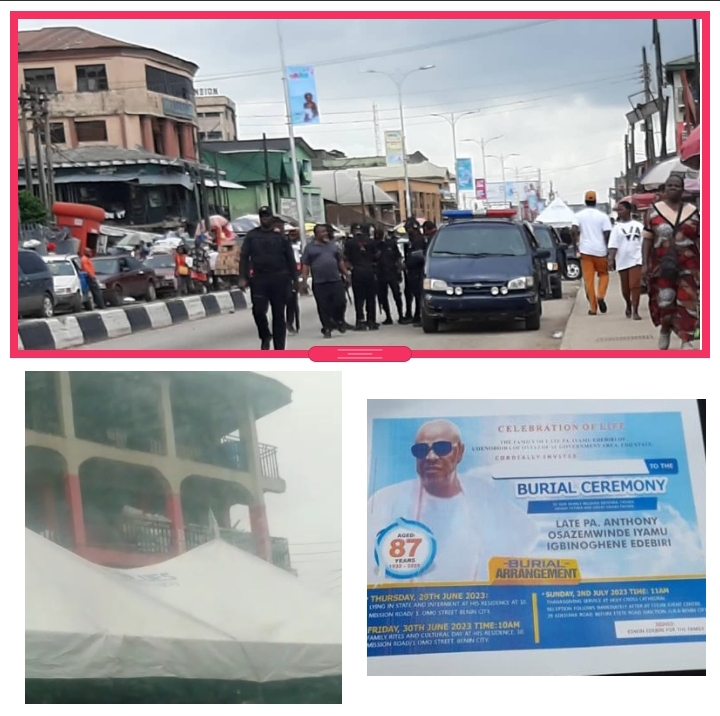 …body was never stolen but relocated for proper burial – family source
By Simeon OSAJIE
google.com, pub-3120625432113532, DIRECT, f08c47fec0942fa0
The alleged stolen of Pa Edebiri's corpse from the graveside 24 hours after the burial ceremony in 2021 surfaced yesterday, Friday 30th June, 2023 when the only son identified as Mr. Edwin Edebiri fly in from US and reburied his late father amid tight security in  Benin City, Edo State capital.

Recall that the Zone 5 Police Public Relations Officer, DSP Tijani Momoh had earlier told newsmen that flowing from the petition received from some children of the Late Pa Anthony Edebiri, the Assistant Inspector General of Police, Zone 5, Benin City directed men of the Homicide Department of the Zone to immediately commence investigation.
According to DSP Tijani Momoh, police has arrested two suspects; one Kingsley Osagie and Ekiuwa Igbe who were interrogated over the invasion of the grave side and the stealing of the dead body.
Investigation by The9JaTREND reporter revealed that the entrance of Mission Road by Ring Road was blocked with a pickup van with inscription "Edo State Traffic Management Agency" as armed security personnel protected people who gathered under canopies staged on the busy road in front of the deceased compound and those inside his premises at 10, Mission Road, Benin City on Thursday, 29th June 2023.
The9JaTREND further observed that some elderly persons sat round a decorated table inside which portrayed an atmosphere of a lying-in-state.
Unnoticeable checks by The9JaTREND revealed that the arrangement was that of Pa. Anthony Edebiri's funeral which was also contained in a card obtained by journalists.
Investigation further revealed that the corpse of Pa. Anthony Edebiri was being awaited by the gathering.
It was also revealed that the deceased only son who lives in the U.S. identified as Mr. Edwin Edebiri was in charge of the funeral.
Attempts by our correspondent to obtain his comments failed as he was said to have led other family members to a mortuary to collect the corpse of his father.
A man who later secured the contact of one of the journalists assured that Mr. Edwin Edebiri would interface with newsmen on a later date.
However, the man who identified himself as a member of Edebiri's family and preferred anonymity said Pa. Anthony Edebiri's corpse was never stolen as stated by police in zone 5 headquarters.
"My dear, listen, I am an insider, it is not true that the corpse was stolen. Papa had 11 children amongst whom is just one male, Edwin who lives in America, others are females, all from nine women.
"When papa passed on in 2020 during Covid-19, Edwin said the corpse should be kept until he comes to Nigeria after Corona virus crisis.
"The girls ganged up and buried the corpse, who does that? In Benin tradition, that is a taboo, it is the male child that buries not females. So to avoid unforeseen consequences, the corpse was exhumed within 24 hours, and kept.
"His son, Edwin has come to properly bury his father, as you can see… let zone 5 police come here now", he said.
Further investigation by The9jaTREND disclosed that Pa. Anthony Edebiri corpse was reburied in the early hours of Friday, June 30, 2023.
The corpse was said to have been interred in another of his building in the same compound with the one he was earlier buried and exhumed.
Investigation also revealed the incident has created factions in the family as nine other female children and some relatives of the deceased were absent at the burial, today.
The9JaTREND sources said the deceased relative one Mr. Jolly Edebiri, a retired police officer now based in America stood as the family head (Okaegbe) during the initial burial while Mr. Obakpolor Edebiri, step-brother of Pa. Anthony played Okaegbe's role at the present funeral.
It could not be immediately ascertained if today's development will foreclose police investigation.
Several calls made to the zonal police spokesman DSP Tijani Momoh after being informed of the recent developments remained unanswered.