Some Aggrieved Officers Of Nigerian Prison Writes Tinubu Over Exhausting Poor Salaries, Now Borrow Money From Inmates To Survive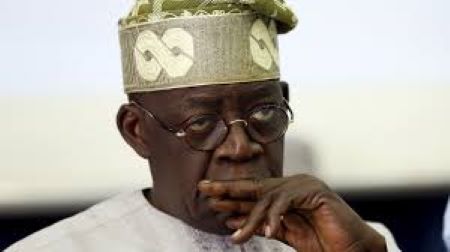 By Our REPORTER
Some aggrieved officers of the Nigerian Correctional Service (NCS), formerly Nigerian Prisons Service, has written to President Bola Tinubu to complain about alleged corruption and poor remuneration in the service.
google.com, pub-3120625432113532, DIRECT, f08c47fec0942fa0
According to one of the officials, the NCS personnel were being poorly paid and treated unfairly unlike their colleagues in other departments at the Ministry of Interior.
He said some of the personnel now depend on inmates to feed their families.
Part of the letter shared with newsmen read, "Correctional service being that agency solely responsible for the safe keeping of those legally detained, rehabilitation, reformation and reintegration back to the society; we the staff of the agency are not taken care of. Our hazardous duty seems not to be recognised and rewarded accordingly.
"Without the safe keeping of prisoners, nobody in the society will sleep peacefully. Poor remuneration: Junior staffs salaries ranges from N38,000 to N65,000 from grade level 3 to 7 respectively. I have spent 11 years on the job and I'm currently on level 7 with a salary of N65,000 monthly to survive which is impossible. If not God, we pay rent, feed, pay children school fees, buy fuel or settle other bills etc. We are tired just that we don't have alternatives.
"I have managed my salary to train myself in school yet the agency has refused to upgrade me at least so that I can earn up to N114,000. Promotion arrears not being paid.
"Non-issuance of uniforms: Despite the poor salary, our agency has refused to issue us uniforms instead we have been the one buying for ourselves.
"We are left to beg from inmates when salary gets exhausted after one week of payment, thereby creating unprofessional relationship with inmates through which prohibited items are being taken to custodian centers leading to some escapes in custodian centers. Sometimes officers beg as low as N100 from inmates when they close from work just to pay transport back home.

"The last administration (under Muhammadu Buhari) only increased police salaries without adding anything to us. The last person in police is receiving N74,000 while the last person in correctional service is receiving N38,000, an Inspector of Police is earning N180,000 while an Inspector of corrections is earning N65,000.
"Our predicament is so bad that we now depend on inmates to survive. We are dying in silent because riot is against our Act, we need government to improve our standards of leaving so we can discharge our duties well.
"We are seeking for harmonisation with police salary structure. Just imagine level 7 in police which is Inspector collecting N180,000 which is salary of level 13 officer in correctional service; the temptation is much. I am sure you heard what happened in Lagos Kirikiri prison, our standard of living needs pity; we need the government to increase our pay."