BREAKING: DSS Charges Emefiele Former CBN Governor To Court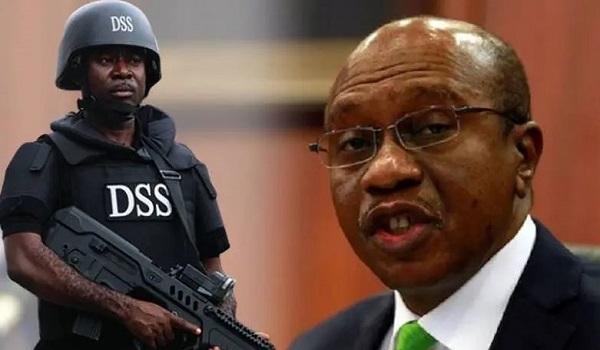 By Simeon OSAJIE
The Department of State Services (DSS) has charged suspended Governor of Central Bank of Nigeria (CBN), Godwin Emefiele to court today.
google.com, pub-3120625432113532, DIRECT, f08c47fec0942fa0
This is sequel to an Abuja High Court order of Thursday, 13th July 2023 that the secret police charge Emefiele to court within one week or release him.
Hours after the court order, DSS spokesman, Peter Afunanya, said Emefiele has been charged to court in compliance with the court order.
Afunanya however, did not state the court where Emefiele was charged and did not state the allegations brought against the suspended bank chief before the undisclosed court.
"The public may recall that the Service had, in 2022, applied for a Court Order to detain him in respect of a criminal investigation," Afunanya said in a statement late Thursday.
"Though he (Emefiele) obtained a restraining order from an FCT High Court, the Service, however, arrested him in June, 2023, on the strength of suspected fresh criminal infractions/information, one of which forms the basis for his current prosecution."
The DSS spokeperson assured the public of professionalism, justice and fairness in handling Emefiele's case.
'Charge Or Free Emefiele'
Earlier on Thursday, Justice Hamza Muazu of the Federal Capital Territory High Court, Abuja issued a one-week ultimatum to the DSS to either charge Emefiele to court or set him free.
The judge issued the order while delivering ruling in a fundamental human rights suit instituted against the DSS and others by Emefiele.
Justice Muazu stated that the suspended CBN governor can't remain in detention without a formal charge, adding also that the DSS can't use the period of Emefiele's detention to search for evidence against him.
Emefiele had sued the Attorney General of the Federation and DSS, seeking enforcement of his fundamental human rights to freedom of movement and dignity to human life.
In the suit, the suspended CBN Governor had applied that his arrest and detention since June 10 without valid order of court be voided and set aside.
Emefiele also demanded a compensation of N5m as exemplary damages for his alleged unlawful detention.
From Suspension To Detention
On Friday, June 9, 2023, President Bola Tinubu suspended Emefiele as the apex bank's chief and directed that the bank's Deputy Governor of Operations, Folashodun Shonubi, resume office in an acting capacity.
The next day, the DSS confirmed that Emefiele is in its custody. The embattled suspended apex bank chief has since remained in the custody of the secret police.
Human rights lawyer, Femi Falana (SAN) had counselled the secret police not to mess up the case involving the suspended CBN chief by prosecuting him for alleged money laundering and economic crimes which fall under the purview of the Economic and Financial Crimes Commission (EFCC).
He had advised that the DSS probe Emefiele for alleged terror financing and transfer him to the EFCC for prosecution for alleged money laundering