Onobun, Ex-Edo Speaker, Others Escapes Death In Ghastly Auto Crash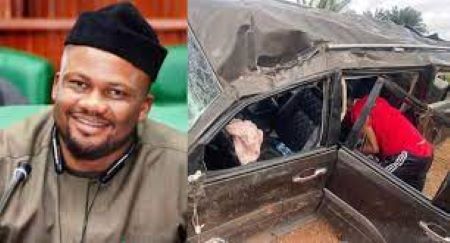 …solicits for prayers from constituents and Edo people for healing
By Simeon OSAJIE
google.com, pub-3120625432113532, DIRECT, f08c47fec0942fa0
Former speaker of the Edo State House of Assembly and member representing Esan West, Esan Central and Igueben Federal constituency at the National Assembly, Hon. Marcus Onobun has been hospitalized at the University of Benin Teaching Hospital, (UBTH) along with his personal staff after they involved in ghastly auto crash.
He was said to have sustained multiple fractures when a vehicle he was travelling in fell into a ditch and somersaulted multiple times along Ekpoma-Abuja Highway.
Onobun and his personal staff were travelling from Benin City to Abuja, after missing their flight when the accident happened. He and his personal staff were rushed to the hospital and doctors said they are would fully recover.
The wreckage of the lawmaker's vehicle, a dark-brown Mitsubishi SUV, showed a detached airbag system, a shattered windshield and a disfigured roof.
Marcus Onobun was the Speaker of Edo State House of Assembly from 2020 until he was elected to the Federal House of Representatives during the 2023 general elections.
Meanwhile, Hon Marcus Onobun has on behalf of his personal staff solicited for prayers from constituents and Edo people for their healing.
In a message trending on social media, the House of Representatives members said his personal staff and himself are by the grace of God recuperating from the effect of the accident, in which they sustained various injuries.

The statement reads: "Rt Hon Marcus Onobun ksc is asking for your prayers and respect for his recuperation, calling on all his, family, friends and supporters to remain calm and steadfast as what God cannot do does not exist.
"Pls pray for speedy recovery for Rt Hon Marcus Onobun ksc and his personal Staff."