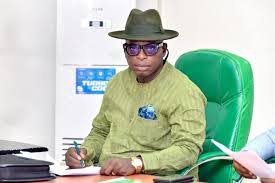 In an attempt to subvert justice, the Edo State House of Assembly Majority Leader, Hon. Henry Okharuobo has invaded a contested landed property with armed thugs, shooting sporadically while residents ran for their lives as the thugs raised down crops worth millions of naira at the Aduwawa axis of Ikpoba Okha local government area of Edo State.
A Benin High Court has earlier restraint Hon. Okharuobo from entering the said landed property belonging to Osaigbovo Uwangue and Barrister Smart Agbonlahor.

Trouble seems to have started when the Edo lawmaker approached the owners of the property (Osaigbovo Uwangue and Barrister Smart Agbonlahor)  to sell a portion of the landed property to him to enable him build a hotel since it was in a choice area of Aduwawa and they declined because they couldn't reach an agreement.
In angered by the breakdown of transaction, Hon. Okharuobo however threatened to use his government power to falsefully grab the land and unleash terror on the owners.
google.com, pub-3120625432113532, DIRECT, f08c47fec0942fa0

Owing to his threat and subsequent force mood to take over the property as an Edo lawmakers, the owners of the property approached the High Court which restrain Hon. Okharuobo from trespassing pending determination of the case.
However, in a twist of event and in connivance with, the Area Commander In Charge of Ikpoba Hill Police Command, ACP Lawal Wale said a petition came up from the said lawmaker alleging that the owners of the landed property forged papers to take over his land.
All attempts to persuade the Area Commander that the allegation was false and  that the issue was already pending before a competent Court of Jurisdiction failed, he hurriedly charged the said owners of the landed property to Ogbeson Magistrate Court apparently to fulfill his side of the allege financial bargain by the Edo lawmaker who is known all over Edo land for his dubious land grabbing antics.

With both cases still pending in the different courts, the Edo lawmaker  brought boys at night suspected to be thugs shot sporadically in the area  to scare away neighbours, destroy the fence and  set the place on fire, burning  the entire crops and threatening them of physical assault next time they come.
Reacting to the incident, the Edo State House if Assembly  Majority Leader, Hon. Henry Okharuobo debunked  the allegation, saying his name was being dragged in the mud in an attempt to tarnish his image.