I Lied To Save My Life – Emmauella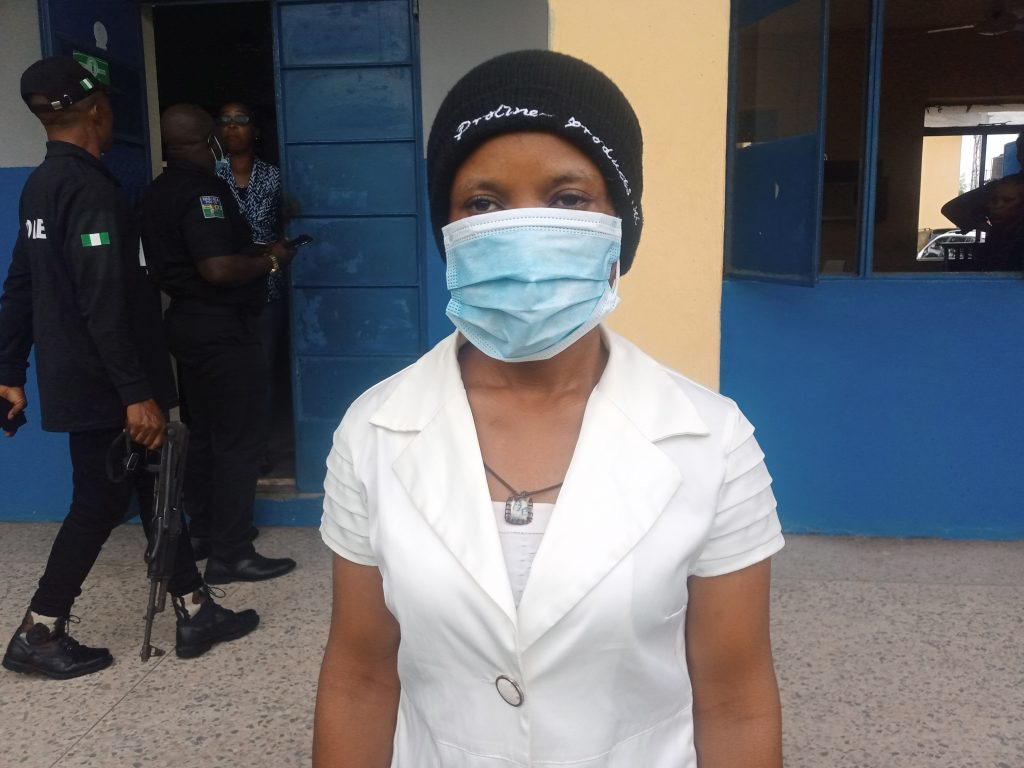 …As she narrates her experience with Kidnappers
google.com, pub-3120625432113532, DIRECT, f08c47fec0942fa0
By The9JaTREND
Emmanuella Anyanwu, a woman narrated her horrible experience from the hand of kidnappers on her way from Lagos State to Imo State, a journey which could have ended her life at the Okada Junction of the Benin – Lagos Expressway on Saturday, 4th September, 2021.
The Imo State born Emmanuella was one of the passengers in a vehicle travelling from Lagos to the Imo State, in Eastern part of the country on Friday, 3rd September, 2021, which broke down on getting to the Okada Junction in Ovia North East Local Government Area of Edo State.
The occupants of the vehicle have no other option than to sleep inside the vehicle and to continue their journey the next morning.
According to Emmanuella, "As early as 6.30am on that fateful Saturday (4th September) , as we were standing by the road side looking for another vehicle to continue our journey, some men came out from the bush, started shooting sporadically as they approached us.
"The men, heavily armed ordered us to lie down while they dispossessed us of our belongings, which included our bags, money and food items. Thereafter, they ordered us to march into the forest with them.
"It took us almost two hours before we got to the kidnappers den. They used clothes to tie our faces as we marched on. When we got to their den they started calling us one after the other to ask questions. I was the last person they called.
"They asked me where I was coming from and where I was heading to. I told them that I was coming from Lagos and heading to my village in Imo State for my husband's burial. They asked me how many children do I have. I told them that I have two children.
"I was asked which business I was doing in Lagos. I told them that I sell groundnuts. They wanted to know who will bury my husband. I responded that his brothers would. They asked me how many siblings do I have. I told them that I have two sisters. They asked me what business is my elder sister doing. I told them that she is selling bread in the village and that the last girl is still in secondary school.
"They asked me if I know them. I said no. They asked me if I can identify police. I said yes. They asked if I know military men. I said yes. They asked me who are they. I said I don't know them. I pleaded with them to tell me who they're. They said that they are kidnappers and that they have kidnapped me so that l can give them money.
"I was warned that if I love my life I should give them money or else I will pay with my life. They asked me how much would I give them. I asked them how much would they take. One of them demanded to know why I was asking them questions. I responded that I was just interested in knowing how much they would take from me. He asked me if I can give them whatever they asked for. I said no.
"They demanded for N10million which I told them that I cannot afford. They asked how much can I afford. I told them l can only afford N500,000.00. They said that the amount was not enough. They asked me who would pay the money (ransom). I said that I will plead with my elder sister to go round my village for assistance. They told me 'go and sit down. You fool.' They threatened me that I would pay with my life.
"That Saturday night there was heavy rainfall. The kidnappers went on another operation and brought in another victim (man). They collected everything that the man had and their attention was on what they got from him. At a point one of the kidnappers stood to make a call, by then I had removed the cloth they used to tie my face.
"I started thinking of escaping immediately or to do it later in the midnight. I took the decision to escape immediately. I started creeping out of the place and ran into the forest (in the direction of the road)," Emmanuella revealed.
Emmanuella disclosed that she made her way to safety by trailing the direction of a communication mast and that she was soon hearing the sound of moving vehicles on the highway. She disclosed that as she got to the highway she saw an elderly motorcyclist whom she pleaded with to take her to the nearest police station.
She said that their abductors were Fulani herdsmen as they communicated in their language. She disclosed that at a point the kidnappers released their cows to roam around the vicinity.
When asked if she could recall what happen when they were kidnapped, did the kidnappers kill anybody during their operation. Emmanuella said she did not notice any death, that the kidnappers started shooting and can not say if anybody was shot dead.