Entrepreneur Donates Note Books, Bags To Schools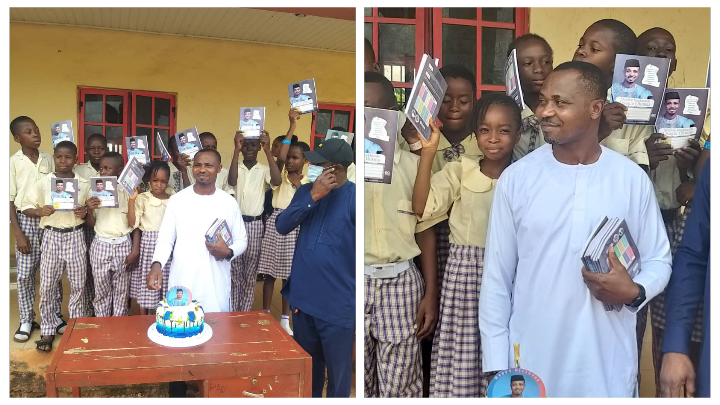 By Our REPORTER
An entreprenuer, philantropist and politician from Owan West Local Government Area of Edo State, Mr. Stephen Imuokhuede Osagie Ohimai has said for any nation to develop in all human endevour, priority should be place on education of the people especially those in the rural areas.
google.com, pub-3120625432113532, DIRECT, f08c47fec0942fa0
Mr. Imuokhuede Ohimai made the statement recently when he donated over 10,000 note books, school bags and writing materials to both private and public schools from ward 1-11 in Owan Local Government Area of Edo State.
He said the gesture was part of the arrangement to celebrate his birthday and decided to give out the note books and the writing materials to the students for them to have that sense of belonging and also to encourage them to believe in themselves and their future and not to determine their future with current situations.
"I believe in them and their future that is why l came to celebrate with them so that they will learn how to give back to the society because they are the leaders of tomorrow that we all look up to," he added.
He then urged the students to be focus on their studies and take their books as their companion at this point in time and not get themselves involve in vices that will traucate their educational pursuit .
While commending the teachers in the local government area for the good work in ensuring the students get the best, Mr. Imoukhuede Ohimai also used the occasion to call on parents to as a matter of priority to ensure that their children do not skip classes and also assist the teachers in proper monitoring of their children after school hours.
Also speaking at the occasion Chief Jaret Tenebe thanked the teachers for the good work and advised the students to make puntuality their watchword and that if they are punctual in anything they do, the sky will not only be their limit but their starting point.
The principal of one of the beneficiary school, Akinluyi Memorial College. Sabo, Ven. Ohiosimuan Anthony thanked Mr. Stephen Imoukhuede Osagie Ohimai for the donations of the note books and other writing materials and prayed God to continue to blessing and proper him in all his endenvours
Some of the beneficiary schools include Evbiobe Central School, Sabo, Owato Primary School, Oke -Old, Eme Primary School, Umuehi Central School, Uzebba amongst others.