Assassination Attempt: I Coordinates Lie, Swallow An Uncoordinated Truth – Apostle Suleman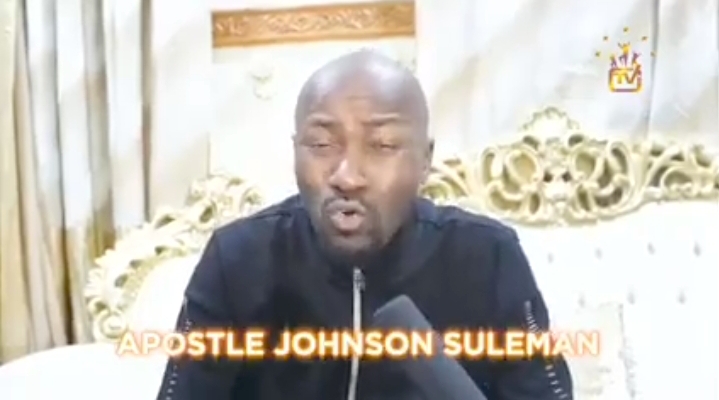 …Says with time, the truth will come out
By Simeon OSAJIE
google.com, pub-3120625432113532, DIRECT, f08c47fec0942fa0
A Nigerian Televangelist and the Senior Pastor and General Overseer of Omega Fire Ministries International, (OFM) Apostle Johnson Suleman has said he want Nigerians to know that he coordinated lie swallowed an uncoordinated truth, with time the truth will come out, based on Friday attack on his convoy by some hoodlums where seven people were killed at Warrake in Owan East local government area of Edo State.
The9JaTREND can convincingly endorse that conflicting to the story by the Edo Police Command that the cleric was attacked by unidentified gunmen in his home; the burning preacher was attacked on the road close to Warrake in Owan East Local Government Area of the state.
Apostle Suleiman confirmed this in one of the two separate videos he posted after the incident.
In the video, he said, "Since 2017, there are certain things that have been happening that I have been quiet about. If you are the most careless person on earth, you will not give yourself to so much scandal. There are things people don't known; even though one or two people along the line took advantage of that, they just come out and say one or two things, but the reason I am coming out to speak now is because they done all that and they discovered that I am still moving on, they decided to make attempt on my life.
"I just escape assassination attempt where seven (7) people were killed. My car was attacked, they open fire on my car and keep spraying bullets on my car, my wife and my kids where there. The escort car with the police, they killed a policeman, they killed other people, the other escort car, and the buses with seven people – we were all moving in a convoy they killed.
"People who did this are expecting me to come out and mention names so that they will come out and deny. I don't do that, but the truth of the matter is this – you can't kill me, my life is in the hand of God, I am a man of God and those who are among those attacking me, you are building on what you don't understand. You may have joined into the foray because you want to chase cloud, you don't know where the fight started from. There are things you don't understand. You don't have an idea of the beginning of what happen 2017. The people who are behind it, you may come and you are doing your own things, but is beyond what you are thinking.
"I am alive. For those who called and all that, I am well, the family is fine. I feel bad for the lives that have been taken. We are mourning, but Jesus is Lord, and for those who they killed, may their soul rest in peace.
"And for the young men who open fire and keep wasting people, I won't take a life, but the seed that you soul you will reap it.
"I want Nigerians to know that I coordinated lie swallowed an uncoordinated truth. With time, the truth will come out," he said.