The South As In-Law of A Strong Man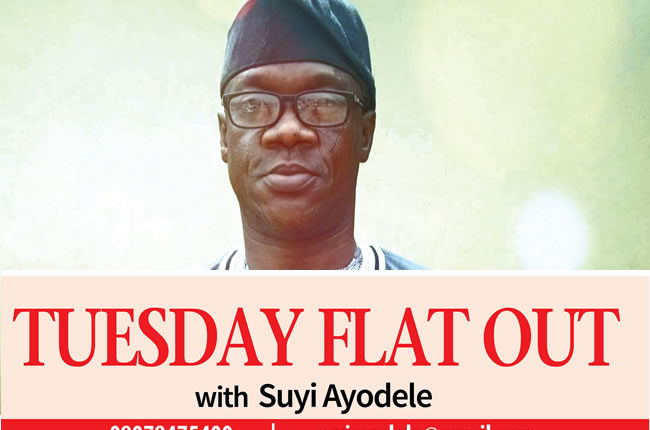 By Suyi AYODELE
The presidential election is four days away. The contest for the remaining fraction of the soul of Nigeria is right here with us. As I pondered on the election, a folk song crept into my mind. It goes thus: Oju laa ro (He must persevere)/Suuru laa ni (He must be patient)/Oniyan ko ba ti l'alagbara l'ana (He who has a powerful man as an in-law)/Suuru laa ni o e (He must be patient).
google.com, pub-3120625432113532, DIRECT, f08c47fec0942fa0
The contest is between the North and the South. Down South are two gladiators. Up North is just one candidate. I say this of the North without qualms. When the chips are down, the other candidate from the North can easily be persuaded to step down for the North's choice. That will never happen down South! We are too 'cosmopolitan' to think in that direction. We should stop pretending.

Three candidates are in the race. They are: Atiku Abubakar of the Peoples Democratic Party (PDP), Bola Ahmed Tinubu of the All Progressives Congress (APC) and Peter Obi of the Labour Party (LP). The fourth would have been Rabiu Kwankwaso of the New Nigerian People Party (NNPP). But I am not putting him into serious reckoning here. He is from where anything can happen. And, between now and Thursday, something can happen up North. When it comes to power and the struggle for it, the North has an advantage. I will explain that.
The advantage the North has over the rest of the country has nothing to do with the claim of a larger population. It will take the second coming of Christ for me to believe that the North, a desert region, has more population than the rainforest of the South. My secondary school Geography, Mr. Fatoyinbo, could not have been wrong. That lopsidedness and illogical reasoning will be corrected one day. What the North has as an advantage is twofold.
One is the ability of the leaders of the zone to speak with one voice and take a position on any issue that affects the zone. The second, and more potent, is what I call the 'apes obey-mentality' of the huge illiterate voting class of the North. Those ones don't rationalise anything. They move as commanded. They have done it in the past and nothing will stop them from doing it again this Saturday if their leaders tell them to. My heart bleeds for the South, especially the South-West. While the North has leaders who would speak and the whole populace will applaud and obey, down South, especially South-West, we decapitated our leaders long ago.
Those who are laying claim to the presidency on behalf of the Yoruba nation, ensured that all the vocal and rational voices of the race, were silenced and rendered impotent; all in the name of an ambition. This is the most critical time in our history as a people that we need our leaders most. Alas, they are nowhere! Sad! Very sad, indeed! No thanks to our new husband, whose first assignment after taking the reins of power was to disrupt and dismantle the ladder that lifted him up.
The day Afenifere became factionalised was the day the Yoruba lost its voice. Pity! Posterity will judge those responsible for that calamity! You may want to ask: what about Ndigbo? I have answered that question in a piece titled: "Ndigbo: Tribe Without Rulers", published on this page on May 24, 2022. I will say no more of that zone. Recent events, especially the daily carnages on the streets of Igboland tell more graphic tales.
So, when Nigerians of southern extraction go into the Saturday poll against their northern counterparts, they should have it in mind that they are up in arms against a son-in-law, who is more powerful than the father-in-law. We gained a lot by listening to moonlight stories. In one of the stories of those days, we were told that any man who gives his daughter in marriage to Ogun, the god of iron, must learn how to be patient and respectful. That admonition runs contrary to our norms, especially, in our marriage setting. But Ogun is a deity. The ways of the deities are different from those of mere mortals.
The last one week has been very turbulent for the supporters of Tinubu. The single beneficiary of Tinubu's political generosity, General Muhammadu Buhari, has been putting every conceivable obstacle on the Jagaban's path to victory at the Saturday election. Buhari took political IOUs twice from Tinubu. The time has come for the Daura man to redeem his indebtedness, but he is aloof! That, to many of us who foresaw the scenario, is not a surprise. But Tinubu's men are not taking it stoically either. They have also been calling for war. From Abdulahi Umar Ganduje to Nasir El-Rufai and Festus Keyamo, it has been one insult or the other on the person of Buhari. I love that. The loquacious one, Femi Fani Kayode, like the proverbial Iwofa Alaba (proverbial Alaba's serf), who says anything the air blows into his mouth, has been a regular guest of the DSS for almost two weeks now on account of the reckless statement he posted.
I read most of their insults, vituperations and outright treason and I marvel! These guys are simply ignorant of the type of 'son-in-law' that their principal, Tinubu, has in Buhari. That Tinubu himself has not come out openly to caution his men shows that he too is very naive. Buhari, Ogun, the god of iron and of war, takes no prisoners. I don't know who Tinubu consulted before he handed over his daughter in marriage to Ogun (Buhari) in 2015. If he had gone to a real diviner for consultation, he would have been told that whoever gives his daughter as a wife to Ogun must also learn to respect Osin Imole. Lakaaye (another name of Ogun) is not wired to respect any in-law. Ogun has no penchant for fidelity. He is also a deity that punishes every infraction without any iota of forgiveness. That is what our tradition teaches us about Ogun as an in-law.
In those days, when lizards were few, three Yoruba kings gave their daughters in marriage to Ogun. The first was Alara, who gave his daughter, Igba (Calabash) to Ogun. Ajero, not wanting to be left behind in associating with the fiery and powerful deity, also handed over his daughter, Wowo (Akeregbe -gourd), to Ogun. The duo's brother king, Osemawe of Ondo, too decided to give his own daughter, Lito, to Ogun. But before he did that, he sought counsel.
Osemawe had a tete-a-tete with his diviners. He was asked to make sacrifices. Above all, Osemawe was advised strongly to show utmost respect to his would-be son-in-law. Osemawe's courtiers protested. "That is not traditional", they argued. "It is the son-in-law that should show respect to his father-in-law. Eni fun ni lomo fe ti pari oore" – he who gives out his daughter's hand in marriage has completed all favours – they chorused. Osemawe thanked his diviners and headed home. Being an Oba, he knew that once one is advised in the public to shoot if the object faces or backs one, in the inner recess, one must think twice (Bo ba ko waju si e ta. Bo ba ko ehin si e ta. To ba ku iwo nikan, tun ero ara e pa). The Osemawe gave out Laito to Ogun in a colourful marriage and kept the counsel of his diviners in his left hand.
Years into the marriage, Igba told Ogun that she would like to visit her parents at Ode Ara. Ogun consented and volunteered to accompany her. The couple arrived at Ode Ara very late and were given a room to sleep. The palace messengers were sent round the town to invite Alara's subjects to come and welcome their king's in-law the following morning. At the appointed time, Ogun and Igba came out to the palace court. Ogun, as usual, had palm fronds as his cloth. Alara was embarrassed to see his son-in-law dressed like that with his unkempt hair and beards. He berated his daughter for bringing him shame. Ogun remembered his native land, Apa, anger swelled in him. He drew his sword and beheaded Alara, instantly. The Palace Chiefs who rose in defence of their king suffered the same date. Igba protested and ended up headless! Ogun made a mess of Ode Ara and took booties of war home.
When Wowo visited her father Ajero, months later and Ajero too had the effrontery of complaining about Ogun's shabby appearance, what befell Alara was a child's play. Ajero and his council of chiefs did not live to tell the story. Wowo too was buried alongside her father. Again, Ogun spoiled Ijero and returned home a rich man in slaves and materials. Then, Lito paid a visit to Ondo. Osemawe received his daughter and praised Ogun to high heavens. He described Ogun's mariwo (palm fronds) as the heavenly costume of no equal. He entertained Ogun lavishly. Ogun was pleased and he gave half of what he took from Ode Ara and Ijero to Osemawe. He also swore that never would he use his sword against any woman. The king's chiefs too got bountiful gifts from Ogun. They all remembered what Ifa told them when Osemawe went for consultation. He who gives his daughter in marriage to Ogun must learn how to show respect to Ogun. Why? Ogun does not value any in-law; all animals are that of Ogun – gbogbo eran ni t'Ogun!
Tinubu's Alara, in 2015 handed his daughter to Ogun (Buhari). He made the Daura Retired General president (so Tinubu said in Abeokuta in June 2022). Four years later, Tinubu's Ajero called Ogun again and gave him another wife. Did Tinubu ask the Oracle the ways of Buhari before he entered into the political arrangements that made Buhari president twice, undeservedly? If he did, what did Eleri Ipin (the one who witnessed destiny), Ifa, tell him?
Every discerning mind knew that right from his inauguration on May 29, 2015, Buhari did not hide his disdain for Tinubu. The signs have been there for the blind to see. His "I belong to everybody, and I belong to nobody" inaugural speech in 2015 was deliberate. He had a target in mind. Buhari was not naive when he issued the proclamation for the inauguration of the National Assembly in 2015 without a recourse to the APC hierarchy. He knew the game plan and created an enabling environment for Bukola Saraki to emerge the Senate President to the embarrassment of Tinubu. Buhari deployed his loyalists in the House of Representatives to queue behind Yakubu Dogara for the speakership against Tinubu's choice then, Femi Gbajabiamila.
In his cabinet, all the men Buhari picked in Tinubu's backyard were the enemies of the 'landlord' of Lagos. Together with his cabal, Buhari shut Tinubu out of the National Executive Council (NEC) of the APC and made the appellation of 'National Leader', that Tinubu carries on his forehead like the mark of the anti-Christ, purely ceremonial! After Baba Bisi Akande ceased to be the interim National Chairman of the APC, save for the period Adams Oshiomhole was Chairman, the Buhari camp shut Tinubu out of the position. Good enough that Tinubu 'fought' back, and he won the party's presidential ticket almost 'effortlessly'. But has Buhari's Ogun forgiven Tinubu for that 'feat'? No father-in-law tells Ogun that his cloth is palm fronds and goes scot-free!
Whatever happens on Saturday will be another lesson for us all to learn from. A man cannot be too circumspect in choosing his in-laws. There are some in-laws that a man should never have, however. How I wished Tinubu had behaved like Osemawe, by seeking divination before making Buhari an in-law in 2015. How I wish the Jagaban had imbibed the wisdom that before you tie the hands of a mad man, you need to first collect the cutlass he is holding, before he made his "emi lokan" speech in Abeokuta in June last year. How I wish on his return to Abeokuta, he did not ask for ayajo on his enemies.
I saw the short video of Alhaji Lai Mohammed, Minister of Information and Culture, where he intoned, during an interview on TVC, that if Tinubu could not list the achievements of his party in the last eight years, he had no basis to ask for anybody to vote for him as a standard bearer of that same party in the Saturday election. Valid words! Mohammed was once Tinubu's Man Friday. What a world we live in! If Tinubu, in all his campaign tours, has indeed distanced himself from the abysmal failure that the Buhari government represents, what does he expect Buhari and his men to do? Clap for him? How do you tell Ogun, your son-in-law, that he is ugly and you expect to go home in one piece? We pray that Alara' and Ajero's fates in the hands of their son-in-law do not befall us this Saturday.