2023 General Elections: Hoodlums Damaged, Burnt Election Materials Of Presidential, National Assembly Polls In Edo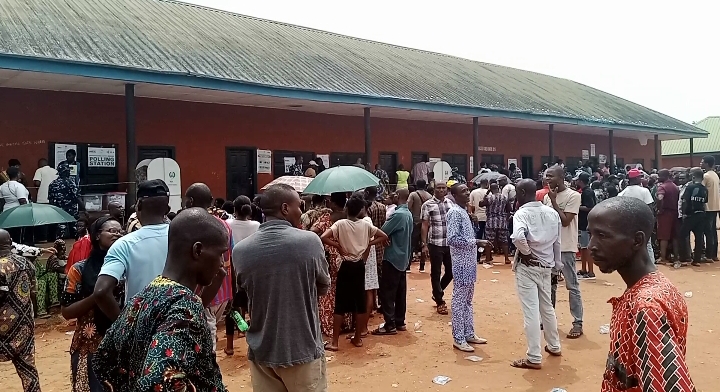 By Simeon OSAJIE
The Presidential and National Assembly Elections in Edo State have turned to combat and war, as hoodlums loyal to major political parties went to some polling units in Egor and Ovia North-East local government areas in the state, snatched and burned election materials in various voting centres.
google.com, pub-3120625432113532, DIRECT, f08c47fec0942fa0
At Uwelu Primary school and Uwelu Maternity polling Centre in Egor local government area, some hoodlums went to the polling units took the ballot papers that the electorates had used to cast their votes, and started burning them in the units.

Also, in Ward 4, in Idia College, at Iyaro in Oredo local government area, close to Governor Godwin Obaseki's polling unit, thugs loyal to the governor took the ballot box and papers and run away.
Information revealed that Mr. Peter Obi of Labour Party was the candidate most electorates were voting for before the thug hijacked the polling units.
The situation was not different in Iyuwa Primary School in Ovia North-East local government area of the state where the INEC Presiding Unit Officers were abducted with the BVAS machines and taken to unknown destination.
Moreover, in Edo North in Etsako local government area, precisely in Auchi Ward 4, the All Progressive Congres s(APC), is leading in every polling units in the district. Sources in the area said the INEC officials arrived there early and accreditation and voting commenced immediately.
In a related development, another source said in Ward 6, in Unit 6 in Etsako East local government area, that elections did not hold in the area because of the late arrival of materials by the INEC officials assigned to the area.
He the source also said, part of the reasons why polls did not hold is because the INEC officials were not skill and capable of using the BVAS machines given to them.
Speaking after voting, former Governor of Edo State, Chief Lucky Nosakhare Igbinedion expressed enthusiasm and satisfaction about the peaceful manner of voting at George Idia Primary School, Benin City.
According to Chief Igbinedion, "Democracy is grew and is improving in every elections. So, is very encouraging that our people had come out enmass and vote peacefully to exercise their franchise to vote for the next President of Nigeria."
Asking how the BVAS machine is working effectively compare to the fear that the BVAS machine will develop faults during voting, Chief Lucky Igbinedion opined: "Well, I cannot speak for another voters, but my voting went on smoothly.
"And I can see my own line is reducing, which means people had been captured appropriately in time and voted. The BVAS is really work in this polling unit and the electorates voted. I must commend INEC for a job well done."
For Hon. Ogbiede Ihama, outgoing Federal House of Representatives, representing Oredo Federal Constituency at the National Assembly whose voting unit is at George Idia Primary school, described the elections as peaceful. He said, this is the polls Nigerians were eager to vote and went free and peaceful.
"People have been in the line and they were anxious to exercise their franchise. I think so far so good, the election is peaceful here, as always. For the workability of BVAS machines – once you want to vote, the BVAS machine will capture you in few seconds, and you go and vote. The BVAS machines are good for the elections.
"My party PDP has always win elections, and I don't think this elections will be different by the grace of God."
A former Oredo local government council chairman, Hon. Osaro Obazee and the candidate of the All Progressives Congress (APC) for Oredo Federal constituency, after voting in his unit came with his APC loyalists to monitor the voting process at George Idia Primary School, Ihama in GRA.
Hon. Obazee disclosed that with the introduction of the cashless policy by President Muhammadu Buhari had brought sanity into the voting process. He expressed joy about the peaceful conduct of the elections before crisis broke out in some polling units across the state, as voting continues peacefully in some voting centres in the state.
According to Obazee, "I want to thank God for this election. Before this 2023 elections started, different candidates from various political parties said, this is what they are going to do. By the grace of God the elections had turn out peaceful. I want to pray that the elections end in a very peaceful manner. I want to also use this opportunity to thank the Electorates for what happen in these polls.
"And to politicians – Politics is a game of number, and if you lose this election try and embrace other opponents. I am thankful to God for giving me the opportunity to join this contest, and I know by the God's grace I will win this election.
"In fairness, I campaign around this area during my rally. The level of acceptance I got is one of the impetuses that I will win the elections."
Moreso, in Evboesi ward in Orhionmwon local government area in Edo state, one of the accredited voters, Fredrick Iduozee called to complained that INEC officials did to come to their ward, as a result of that voting did not take place in the entire ward.
Also complained is a chieftaincy of the PDP in the local government area and a former chairmanship aspirant in Orhionmwon local government area, Barrister Osahon Ahunmwan. He said out of five polling units in Evboesi ward, INEC official only came to one polling unit.
Barrister Ahunmwan therefore expressed dissatisfaction about the circumstances, and how electorates in the area were disenfranchised.
Similar, Rev. Lucky Aghayedo described the election peaceful and stressed that the elections are different from other previous polls whereby voters are given money before they cast their votes. He added that, the cashless policy had reduced vote buying in this general elections.
"Apart from the suffering that this cashless policy had inflicted on us, it has also reduced the level of vote buying. We are all suffering it, and it had restricted vote buying too. As you can see, nobody is influencing anybody with money," he said.