Anti-Party Activities: Edo APC SWC Ratifies Suspension Of Chief Francis Inegbeniki, Others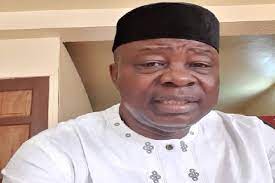 By Simeon OSAJIE
Edo State Working Committee (SWC) of the All Progressives Congress (APC), has ratified the suspension slammed on its Vice Chairman, Edo Central, Chief Francis Inegbeniki and other members in Esan Central Local Government Area of the State.
google.com, pub-3120625432113532, DIRECT, f08c47fec0942fa0
The State Publicity Secretary of the Party, Peter Enoserogbe Uwadiae Igbinigie Esq. disclosed this to newsmen in Benin on Friday 24th March, 2023.
Arising from a meeting presided over by the State Chairman, David Imuse (Rtd). earlier in the day, the Working Committee ratified suspension of the affected members pending findings of the 5 – man committee set up to investigate extent of their culpability; and come up with recommendations.
According to him; "the Esan Central Local Government Area Chapter of the APC had in a statement dated 21st March, 2023 and signed by Rawlings Ason Ekeoba, Chairman of the Party in the locality, all the local lovernment exco, many leaders and stakeholders; conveyed suspension of Chief Francis Inegbeniki, Vice Chairman of the Party in Edo Central and 10 others to the State Working Committee of the party.
Others are: William Shaka Momodu (Ward 5); Raphael Ehimen (Ward 5); Pius Igene (Ward 3); Godfrey Odalo (Ward 3); Francis Ubene (Ward 8); Barr. Kelvin Usifoh (Ward 6); Umane Isesele (Ward 7); Abudu Ugbesia (Ward 1); Aire Ijeh (Ward 4); Solomon Emiohe (Ward 10).
In a statement, "the decision to suspend the accused members was taken in a meeting of APC LGA Exco and other stakeholders held on the 20th of March 2023, for allegedly being involved in anti- party activities in "the House of Representatives and State Assembly Elections of March 18, 2023,"Igbinigie said.
When The9JaTREND put a call across to Edo Central APC Vice Chairman, Chief Francis Inegbeniki at the time of filing in this report for his reaction, he said, "I am not aware of the purported suspension, I want to make calls and l cannot make any comment as regard to the alleged suspension.