May Day: Imansuangbon Seeks Better Rewards System For Nigeria Workers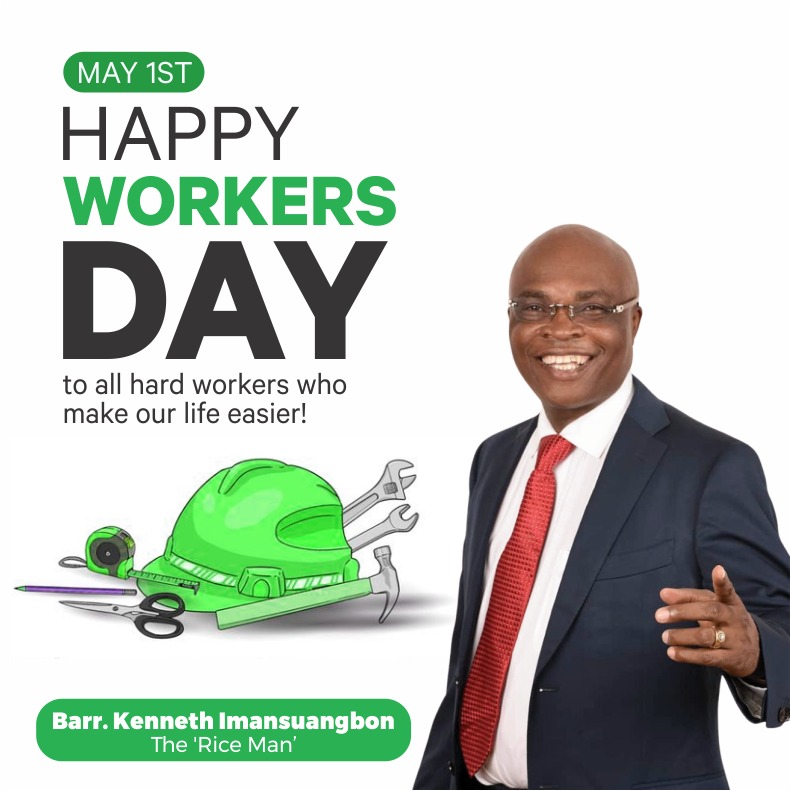 By Simeon OSAJIE
A chieftain of the People's Democratic Party (PDP) and a Governorship aspirant in the forthcoming Edo State 2024 gubernatorial election, Barr. Kenneth Imansuagbon (aka Riceman) has joined workers in Nigeria to mark the day set aside to commemorate the World Workers' Day.
google.com, pub-3120625432113532, DIRECT, f08c47fec0942fa0
In his goodwill message, Imansuagbon, who is the proprietor of Pacesetters Group of Schools, Abuja, sought for a better reward system for workers in the country.

While he prayed to God Almighty for the workers to have three best of health, the Edo 2024 governorship aspirant stressed that a better reward system would make their years of labour not to be in vain.
According to the educationist: "I join workers all over the country, especially in Edo State on this auspicious occasion of their day tagged: 'Workers Day'. My prayer is that workers' labour, hardwork and preserverance should never be in vain.
"I want to also acknowledge and celebrate the tremendous contribution of the hard work of Nigeria workers. In deed, your tireless efforts, dedication and commitment to nation building has kept the Nigeria going cannot be over-emphasized despite the obvious challenges.
"May the dutiful workers always count bounties of blessings everywhere they find themselves. This is sure way of getting the right reward for all workers have invested in keeping the wheel of the nation's economic sector moving smoothly without any setback.
"As an employer of labour myself, I see the hours of hardwork my employees put into making the organisation function optimally.
"My wish is that such personnel who put in much effort in their work schedule should always be blessed with heavenly support in their undertakings."
Going further, Barr. Kenneth Imansuagbon reminded the workers in Edo State that 2024 is the year of the governorship poll in the state and he count upon their support "so that together we can change the fortunes of the state for the better."