Emulates PDP On National Youth Leader – Ex-NANS President Urges APC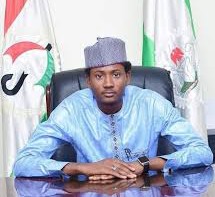 By Our REPORTER
Former President, National Association of Nigerian Students (NANS) and chieftain of the All Progressives Congress (APC), Aruna Kadiri, has said the emergent of the 25 years old Muhammed Suleiman as the Peoples Democratic Party (PDP) National Youth Leader is a challenge to the All Progressives Congress (APC) to get it right again by electing similar age brackets to fill the position of National youth leader in the party.
google.com, pub-3120625432113532, DIRECT, f08c47fec0942fa0
He said this while answering questions from The9JaTREND in Benin City, the Edo State capital.
Kadiri said the APC as a party before now has always done the right thing and has set a benchmark for other political parties in the country to follow.
"Yes, the PDP has taken the right step in electing a 25-year-old Muhammed Suleiman as its National Youth Leader. I will tell you categorically that they have taken the right step.
"I am an APC man, a chieftain of the APC but I will tell you that PDP has taken the right step by putting a youth in the rightful place and it is a challenge to us the APC to also get it right and we will get it right.
"I am calling on the APC to get it right, to do the right thing which of course, getting the youth involved but of course, the APC has been getting the youth involved.
"The present youth leader of APC is a little bit above 40 and if you ask me, it is not bad unlike in the old where you see over 70 years old man being the youth leader of a party.
"The PDP has gotten it right and the APC has been getting it right and in the next Congress, I can assure you that the APC will also get it right", he said.
The former NANS president said the youth constitutes roughly 51 percent of the nation's population but regrettably, its numerical strength has not been put to use in ensuring that they take over the helms of affairs of the country.
He said that they are not asking the older ones to leave politics completely but that they should provide the necessary advise in piloting the affairs of the country.
"We are not saying that the elders should go and sleep, the country needs the youthfulness of the youth and the wisdom of the old to achieve whatever we want to achieve", he said.