Festus Ekenaye Remains Okaeghele Of Obagie-Nevbosa, Says Odionwere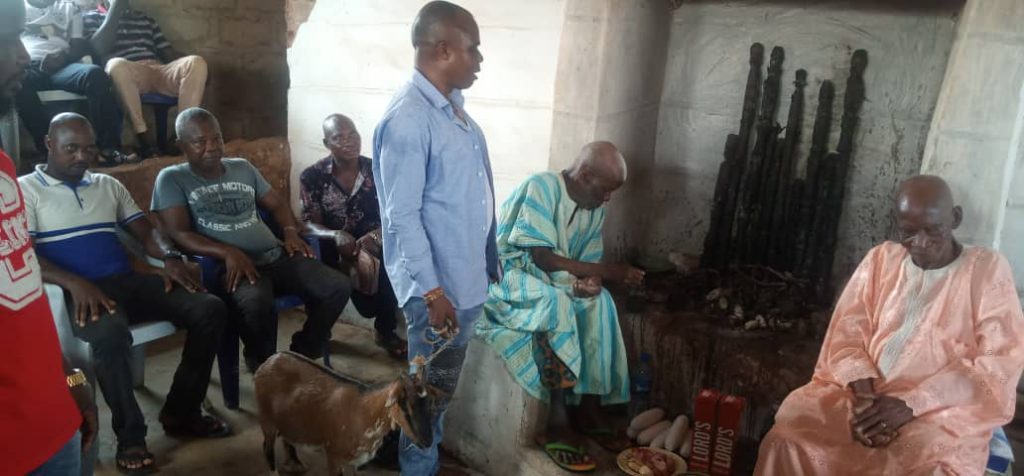 By Simeon OSAJIE
The Odionwere and Elders of Obagie-Nevbosa Village in Ikpoba-Okha Local Government Area of Edo State, on Monday, 13the June, 2022 sternly debunked the news making the round in the media that one Mr. Festus Ekenaye has been relieved of his Okaeghele's position in the village.
google.com, pub-3120625432113532, DIRECT, f08c47fec0942fa0
Addressing Journalists alongside elders at the Village Oguedion, the Odionwere, Pa. Omozuhiomwen Aguobatile Okungbowa, described the news as unfounded, misleading and calculated attempt by some mischief-makers to cause crisis in the peaceful Community.
Pa. Okungbowa, emphatically maintained that Mr. Festus Ekenaye, remains the substantive, approved and recognised Okaeghele of Obagie-Nevbosa, warning that any person claiming the Okaeghele's position other than Ekenaye is an impostor, hence, the general public should disregard such impersonator.
The Odionwere who disclosed that some youths desecrated the Village by fighting inside the Oguedion, added that Festus Ekenaye being the leader of the youths was asked to bring the affected youths to appease the ancestors of the land before they can take part in the village's activities.
He said that following the remorsefulness of the people as well as meeting the traditional conditions given to them to appease the ancestors by the village, the Elders of Obagie-Nevbosa on Monday decided to lift the restraining order placed on the youths wing of the Village.
Pa. Okungbowa, however, commendedl the Okaeghele for his developmental role in the village, adding that Ekenaye has continued to champion peace and progress in Obagie-Nevbosa.
In their separate remarks, the Ozukpogieva (2nd-In-Command), and Chairman of Elders' Council of the Village, Messrs Owenaze Igbinedion and Michael Alohan, corroborated the position of the Odionwere, maintaining that Festus Ekenaye, was never a time suspended nor removed as Okaeghele of the Village.
The affected youths in wild jubilations shortly after appeasing the gods and ancestors of the land expressed gratitude to the Odionwere, Elders and people of Obagie-Nevbosa for the unconditional forgiveness of their sin, promising to be of good conduct henceforth.