2023 ELECTIONS: Be Responsible, Put Nigeria First – Jonathan Tells Politicians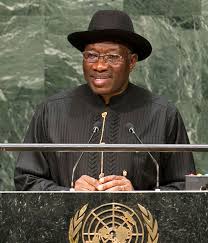 By Editor
Former Nigerian President, Dr. Goodluck Ebelle Jonathan has urged politicians to put the wellbeing of Nigerians first during the forthcoming activities of 2023 general elections.
google.com, pub-3120625432113532, DIRECT, f08c47fec0942fa0
Dr. Jonathan gave the advised on Thursday, August 25, in Abuja during the Annual Ibrahim Badamasi Babangida Legacy Dialogue.
The Nigeria former president, who attended virtually, said: "The forthcoming elections are critical to our national aspirations, shared prosperity and development. | urge our politicians to be mindful of our unity and stability and exercise discipline in their campaigns and other political activities.
"To the rest of us, this period does not afford us the luxury of indifference. We must be determined to participate in our democratic processes. It requires that we must mobilise to vote those who will manage the affairs of the country with honesty in order to guarantee peace, justice, unity and progress in our land."
Mohammed Namadi Sambo, who served as vice president under Jonathan, was also at the event. Sambo urged candidates and stakeholders of the various political parties to adopt issues based campaigns for the 2023 general election.
Sambo said: "As we approach the critical stage towards the 2023 general election in Nigeria, it is important to use this opportunity to call on all political parties and indeed, candidates and other key stakeholders to adopt issues based campaigns.
"We must all shun the use of hate or foul language and mudslinging to avoid overheating the polity. Peaceful, free and fair election next year will definitely mark yet another important milestone in our march towards sustainable democracy, peace and development of our dear nation."