Edo Govt Commences Topographic Survey At Irhirhi-Obazagbon-Ogheghe New Town Site – Nehikhare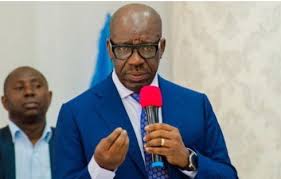 …To commence verification Oct. 11
By The9JaTREND
google.com, pub-3120625432113532, DIRECT, f08c47fec0942fa0
A team of experts have commenced topographic survey and soil tests at the new town site at Irhirhi-Obazagbon-Ogheghe Road to gather data for planning activities in the area.
The verification exercise at the site will commence on Tuesday, October 11, 2022, at the Edo State New Town Development Authority (ESNTDA) office.
According to Chris Osa Nehikhare,
Honourable Commissioner for Communication & Orientation, members of the public with claims to landed property in the area should come forward with their documents including building approvals.
"For the topographic survey and soil tests, the team will be taking samples that would inform the siting of high-rise buildings and other multistorey developments in the area.
"Those coming for verification are enjoined to proceed orderly and come with the following: 2 Passport Photographs; Proof of Identity; Title Documents; approved registered Survey Plan; Photocopies of all originals to be tendered as originals will just be sighted and returned while Letter of Authorisation must be signed by the client for those representing clients.
"All enquiries are to be made to the ESNTDA helpline on: 09132467473," her said.
Chris Nehikhare assured citizens that Edo State Government restates its commitment to ensuring the protection of property rights and assures a conducive environment for businesses to thrive.