International Day To End Impunity: Royal British School Recognizes Journalist's Contribution To Society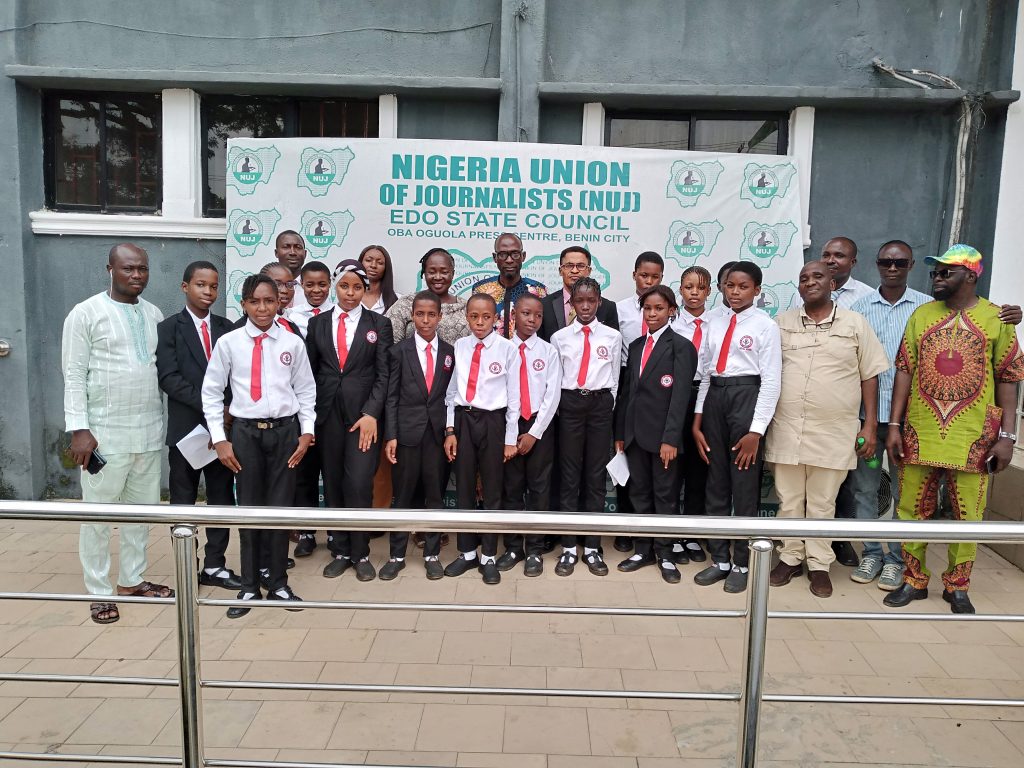 …Urges govt to recognize roles played by journalists in nation building
By Simeon OSAJIE
google.com, pub-3120625432113532, DIRECT, f08c47fec0942fa0
As the world mark International Day to End Impunity for Crime against Journalist, one of the private schools in Benin City, Edo State, Royal British International School, in Eyaen, has deemed it appropriate to recognised journalists for bringing news and information to the general public undermining the hazard in their constitutional responsibility.
It would be recalled that, the United General Assembly declared every 2nd of November, as the International Day to End Impunity for Crimes against Journalists, and the general assembly adopted the resolution in commemoration of the assassination of two French journalists in Mail on 2nd November, 2013.
Over the past decade, more than 700 Journalists have been killed for bringing news and information to the general public.
In a speech presented by Ese Momodu, a JSS.1 students of the school, urged the government to recognize the crucial roles played by journalists in nation building in ensuring that there is a stable and egalitarian society, where everyone has a sense of belonging. These important roles carry out by journalists, she said, can only be carried out when journalists are allowed access to information without any hindrances.

According to Ese, "today I want to re-echo the call for journalists and media practitioners to remain resolute and committed to their constitutional responsibility of providing accurate and reliable information to the people, while holding governments accountable to the general public. These important roles can only be carried out, when journalists are allowed to have access to Information without any hindrance."
Another student of the school named, Prince Usuinomo, said government must strive to promote safe and enabling environment for journalists to perform their work independently and without undue interference.
According to Usionomo, "A free media is the bedrock of democracy and human rights. Government must also recognize the important roles played by journalists in nation building. This important role can only be carried out when journalists have access to reliable and independent information without interference.
"United Nations member states are on this day 2nd November reminded to do their utmost to prevent violence against the journalists and bring to justice perpetrators of crimes against journalist.
"Royal House British International School stands with NUJ, and says No to crime against journalist."
Explaining the essence for the courtesy visit, the spokesperson for the School, Rev. (Dr.) Sam Raphael, said they came to kick against molestation, intimidation and killing of journalists in Nigeria.
He explained that, journalists as the fourth estate of the realm go to high length to bring out investigative reports that would lead to the transformation of the society.
Rev. Raphael added that he was also a Religion reporter in the Navigator Newspaper, where he passes through hell and fire to dig into story that would inform the general public.
He lamented how Dele Giwa was killed when he was still a young boy while digging deep into a certain reports.
He said, Dele Giwa was killed because he was reporting the truth and therefore called on all security agencies to stop harassing journalists while carrying out their journalistic assignments.
Responding, the Secretary to Edo State Council of NUJ, Comrade Andy Egbon, said there is no total freedom for journalists across the world, but urged government at all levels to restrains in brutalizing and molesting the journalists.
Comrade Egbon lamented that a lot of journalists have been killed while carrying out their social duties and equally called on governments globally to end impunity against journalists.
"For the fact that you are solarizing with all journalists, it goes a long way to pass a very strong messages. It goes to show that you are conscious to the fact that there is impunity and crimes against journalists globally. I like the spirit you are inculcating on your pupils and I thank you for that spirit.
"I will also want to thank the United Nations (UN) for acknowledging that there is need to end crimes against journalists globally not just only in Nigeria. There is no part of the world that journalists have absolute freedom. Contrary to all it ought to be. As you have acknowledged globally, journalists are killed every day.
"In Nigeria, the Constitution provides easy access to report. We even have the FOI Law, which provides legal law and also provides how journalists should seek for information for public interest. Unfortunately, in the cause of trying to exercise this roles in the law for the benefit of the public, many journalists have been killed, intimidated, jailed, kidnapped and their families have been harass, which is not good for any society."
Going further, Comrade Egbon added, "The roles of journalists have to do with social service. You will be surprise that average human beings would not want the press to report what they want to hide. This is not good for any society that is operating democracy. It would promote an unhealthy society.
"Silencing and preventing the journalists for reporting the truth; you are not helping them to do what they ought to do. The reason is this – what the journalists are reporting today is what most people rely on to be able to form discussion and contribute meaningfully as effective members of the society."