Nigerians Are Bereaved Under APC Govt – Eholor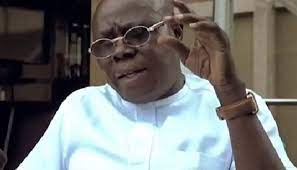 …Urges Nigerians to use their PVC to punish bad leaders

By Simeon OSAJIE
google.com, pub-3120625432113532, DIRECT, f08c47fec0942fa0
A chieftain of the Labour Party (LP) in Edo State and President, One Foundation Chief Patrick Eholor, also known as Ultimate equal, has said that Nigerians are bereaved under the All Progressives Congress (APC) led federal government.
He described bereavement under the circumstances as not only when individuals loved ones passes on, but also include deprivation of good governance, insecurity, inflation, poverty amongst others.
Eholor made the remarked while speaking with newsmen during the Labour Party stakeholders meeting where the 2023 Obi/Datti Presidential Campaign Council Committee was inaugurated in Benin City, the Edo State capital.
According to Chief Eholor, 2023 presidential election is not about the Labour Party presidential candidate, but a massive movement of Nigerians for change and a collective effort of Nigerian people.
"This is not about Peter Obi, is about us as Nigerians, is a massive movement and a collective effort of people who are bereaved by analysis we are all bereaved.
"We sympathize with this country called Nigeria. We don't want this house called Nigeria to fall, so we are all already willing to save this house so this is not about Peter Obi is beyond Peter Obi.
"Peter Obi is just the one who's driving the vehicle on the platform of labour party, because if he were to be an independent candidate, I am sure the narrative would have still be this same because he has the pedigree and character that we need to salvage the situation we are inn today".
He however urged Nigerians not to reward those that put their school children at home for 8 months and those that put the country in darkness till date with their PVC, but see it as an opportunity to punished them with it.