2023: Obasanjo Endorses Peter Obi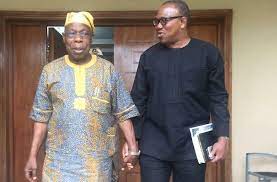 …Says Obi ahead others in terms of knowledge, discipline, vitality, character – Obasanjo
…Says Nigerians saw hell on earth under Buhari goft., marks APC low
google.com, pub-3120625432113532, DIRECT, f08c47fec0942fa0
…As APC, PDP says Obi's endorsement Obasanjo valueless
By Simeon OSAJIE
Former Nigeria President, Chief Olusegun Aremu Obasanjo on Sunday endorsed the presidential candidate of the Labour Party (LP), Mr. Peter Obi, saying he had an edge over other presidential candidates in terms of knowledge, discipline, vitality and character.
Obasanjo therefore, urged on Nigerians to vote Mr. Peter Obi the LP presidential candidates in the February 25 presidential polls.
But Olusegun Obasanjo endorsement engrossed angry reactions from the All Progressives Congress, the Peoples Democratic Party, Social Democratic Party, the All Progressives Grand Alliance and the African Action Alliance which described his support for Obi as worthless.
The presidential candidates of the APC, Bola Tinubu; PDP, Atiku Abubakar; LP, Obi and the New Nigeria Peoples Party, Rabiu Kwankwaso are the frontrunners in the race to succeed the President, Major General Muhammadu Buhari (retd.) in the poll.
In the 2023 New Year message signed by the former President and made available to newsmen by his aide, Kehinde Akinyemi, Obasanjo described the last seven years of the Buhari regime as horrible and hell on earth for most Nigerians.
The letter partly read, "The last seven and a half years have no doubt been eventful and stressful years for many Nigerians. We have moved from frying pan to fire and from the mountain top to the valley. Our leaders have done their best, but their best had turned out to be not the best for Nigeria and Nigerians at home and abroad. For most Nigerians, it was hell on earth.
"Those of us who are alive should thank God for His mercies, brace ourselves for the remaining few months of this administration and pray and work very hard for an immediate better future – a future of liberation, restoration and great hope and expectation."
Appraising the suitability of the presidential standard bearers, Obasanjo accused them of deceit, adding that some of them had been trumpeting what was not realistic in a desperate bid to win the election.
The ex-president expressed anguish over the terrible state of the nation, stressing that the presidential candidates did not realise that Nigeria had been dragged down well below the level it was when he assumed office in 1999.
He admitted that Nigeria was in very bad shape and was tottering on the verge of collapse and break-up when he took office, but the nation, he added, was not faced with the current level of pervasive and mind-numbing insecurity, rudderless leadership, mismanagement of diversity and pervasive corruption and bad economic policies, which he said had resulted in extremes of poverty and massive unemployment and galloping inflation.
"We have had campaigners going up and down the country feeding us with what they mean and what they do not mean, what they understand and what they do not fully understand, what is possible and what is not possible, what is realistic and what is unrealistic, what is true and what is untrue. I believe that we need not be confused or be gullible. Let us be cautious, not to be fooled again," he advised the electorate.
In endorsing the ex-Anambra State governor, the elder statesman said a suitable presidential candidate must have "a track record of ability and performance; a vision that is authentic, honest and realistic; character and attributes of a lady and a gentleman who are children of God and obedient to God."
Hinting that Peter Obi possessed the attributes and attitudes necessary to successfully directing the affairs of Nigeria at a time like this, Chief Obasanjo expressed support for Obi and called on Nigerian youths to vote for him.
'Obi ahead'
The former president stated, "None of the contestants is a saint but when one compares their character, antecedents, their understanding, knowledge, discipline, and vitality that they can bring to bear and the great efforts required to stay focused on the job, particularly looking at where the country is today and with the experience on the job that I personally had, Peter Obi as a mentee has an edge.
"Others like all of us have what they can collectively contribute to the new dispensation to liberation, restoration and salvaging of Nigeria. One other important point to make about Peter is that he is a needle with thread attached to it from North and South and he may not get lost.
"In other words, he has people who can pull his ears, if and when necessary. He has a young and able running mate with a clean track record of achievement both in public and private life."
While expressing respect for all the presidential candidates whom he said claimed to be his mentees, Obasanjo buttressed his choice of Obi with the argument that the aspiration to lead the country should be a collective quest and not a personal or selfish ambition.
He described Obi as his mentee, stressing that the former Anambra State governor had an edge in the 2023 elections.
In a veiled reference to Tinubu and Atiku's stance that it was their turn to lead the country and on their claims that they have paid their dues, the former leader said, "Let me say straight away that 'Emi Lokan' (It's my turn) and 'I have paid my dues' are one and the same thing and are wrong attitude and mentality for the leadership of Nigeria now.
"They cannot form the new pedestal to reinvent and to invest in a new Nigeria based on an All-Nigeria Government for the liberation and restoration of Nigeria. Such a government must have representation from all sectors of our national life – public, private, civil society, professional, labour, employers, and the diaspora. The solution should be in 'we' and 'us' and not in 'me' and 'I'."
Taking a jibe at the APC and PDP presidential candidates who are septuagenarian, respectively, the Owu chief further contended that both men may not be able to provide the vigour, energy, agility, dynamism and outreach that the job of leadership of Nigeria at the very top required.
"The vigour, energy, agility, dynamism and outreach that the job of leadership of Nigeria requires at the very top may not be provided as a septuagenarian or older. I know that from personal experience. And it is glaring out of our current experiences. Otherwise, we will be fed with, "The President says" and we will neither see nor hear him directly as we should," he warned.
Obasanjo, who led the nation between 1999 and 2007 said Nigerians have a unique opportunity to position the nation on the right trajectory by voting for the right person, adding that those preaching division, segregation, and separation simply want to use the nation's diversity for their selfish interest, describing them as the enemies of the nation.
The former military head of state appealed to Nigerian youths to take charge of their future by deploying their large population to reposition the nation on the path of change and progress in the next polls.
"The power to change is in your hands. Your future, my future, and the future of grandchildren and great-grandchildren are in your hands. Politics and elections are a numbers game. You have the numbers, get up, stand up and make your numbers count.
"I appeal to the young Nigerians to stop inheriting other people's prejudices and enemies. Make your own friends and stop inheriting your father's enemies. Let's stop criminalising and demonising one another on the basis of the civil war on which we are all wrong. And let's praise and thank God for preserving the oneness of Nigeria," he appealed.
'Endorsement worthless'
Responding to Obasanjo's lengthy message, the Director, Media and Publicity, APC Presidential Campaign Council, Bayo Onanuga, said Tinubu, would not lose sleep over the endorsement of his Labour Party counterpart by the former president.
Onanuga, in a statement on Sunday, described the endorsement as worthless, adding that Obasanjo was a paperweight with no political goodwill or leverage anywhere in Nigeria to make anyone win a councillorship election let alone a presidential election.
The statement read, "We read with amusement the endorsement of Mr Peter Obi, the Labour Party presidential candidate by former president Olusegun Obasanjo in his New Year message on Sunday.
"Following calls by journalists from various media houses who asked for our reaction, we decided to make this preliminary statement, though we didn't consider the so-called endorsement to be of any value.
"We respect the democratic right of former President Obasanjo to support and endorse any candidate of his choice in any election. Except that he made it known formally in his New Year message, any discerning political watcher in Nigeria knows that Chief Obasanjo's preference for Peter Obi is expected.
"He had earlier stated his position at various public events, the last being at the 70th birthday anniversary of Chief John Nwodo, former President of Ohanaeze Ndigbo in Enugu.
"We make bold to say that our party and candidate, Asiwaju Bola Ahmed Tinubu will not lose sleep over Obasanjo's move, as Obasanjo is notorious for always opposing progressive political forces, as he did against MKO Abiola in 1993.
"The endorsement is worthless because the former president does not possess any political goodwill or leverage anywhere in Nigeria to make anyone win a councillorship election, let alone a presidential election. He is a political paperweight. He is also not a democrat anyone should be proud to be associated with."
Onanuga alleged that while in power, Obasanjo in 2003 and 2007 used the coercive instruments of state at his disposal to railroad people into elective offices against the will of Nigerians as expressed at the polls.
"In 2007, he declared the polls a do-or-die affair after he failed in his bid to amend our constitution to have a third term. From our records, former president Obasanjo has not successfully made anyone win an election in Nigeria since then. Not even in Ogun State can anyone rely on his support or endorsement to become a governor or councillor," he contended.
Expressing pity for Obi, Onanuga said the APC is confident that Obasanjo cannot win his polling unit and ward in Abeokuta for the LP candidate in the coming presidential election.
https://googleads.g.doubleclick.net/pagead/ads?gdpr=0&us_privacy=1—&client=ca-pub-7167863529667065&output=html&h=200&slotname=7613074554&adk=2029653092&adf=4022141933&pi=t.ma~as.7613074554&w=856&fwrn=4&lmt=1672648013&rafmt=11&format=856×200&url=https%3A%2F%2Fpunchng.com%2Fobasanjo-endorses-obi-as-atiku-tinubu-camps-protest%2F&wgl=1&adsid=ChEIgJ7KnQYQ3ZyB08eYv8PhARI9AMZWSwL-hXdKiJYySbRq5M91IMT4qTolN5UQJYZG_9FjYJm44npjTNdTlJ3wRuh6VHW7Wih8jkbmAutRQQ&uach=WyJXaW5kb3dzIiwiMTQuMC4wIiwieDg2IiwiIiwiMTA4LjAuNTM1OS4xMjUiLFtdLGZhbHNlLG51bGwsIjY0IixbWyJOb3Q_QV9CcmFuZCIsIjguMC4wLjAiXSxbIkNocm9taXVtIiwiMTA4LjAuNTM1OS4xMjUiXSxbIkdvb2dsZSBDaHJvbWUiLCIxMDguMC41MzU5LjEyNSJdXSxmYWxzZV0.&dt=1672650181945&bpp=1&bdt=7013&idt=2696&shv=r20221207&mjsv=m202212010101&ptt=9&saldr=aa&abxe=1&cookie=ID%3D436e5ccd74704bde-22138ad7cfd70031%3AT%3D1670387478%3AS%3DALNI_MZs7bKyoWVfx3S0kckk9XitZP0oDw&gpic=UID%3D00000b2d3452de51%3AT%3D1670387478%3ART%3D1672650028%3AS%3DALNI_MZGWnvbvisda6CYD75l2RXiD0Sxbg&prev_fmts=0x0%2C856x200%2C300x600%2C856x200%2C856x200&nras=1&correlator=2995596470253&frm=20&pv=1&ga_vid=1618175134.1670387608&ga_sid=1672650185&ga_hid=576871749&ga_fc=1&rplot=4&u_tz=60&u_his=1&u_h=900&u_w=1600&u_ah=852&u_aw=1600&u_cd=24&u_sd=1&dmc=8&adx=154&ady=7209&biw=1583&bih=692&scr_x=0&scr_y=4455&eid=44759876%2C44759927%2C44759837%2C42531705%2C44779077%2C44780792&oid=2&psts=ACgb8tsqwfTQz5AjDm648AaKiTsZI6paB8i0_bZnIKOdmEKKKQPzsntH4mdSXN7gjVv8Qhu7tuuVHxOXHXSeeB8%2CACgb8tsucD9pvz1kOYFdNwD25-1puacor4V-6uqjXqlbCatuh51V8ooET0u6BNZHadE_t626SwlzU42NA0NxMPe0kA%2CACgb8tugGbPZEqiNywgtQkuKTYfPTMm5y65oJy3rg5rIDTzLPa_-WifI4-tv5RI0B6iex8EKvpM45bnPgGr-TIY%2CACgb8tuy4H9rBJogiaoh6M5yZS6HuE9MicAJGLoGHB879ExPwr2y-beZKB-RU-fQS2Cy1Ne-hjfd_RAKOjMZm68&pvsid=2217729881236605&tmod=1834058971&uas=3&nvt=1&ref=https%3A%2F%2Fwww.google.com%2F&eae=0&fc=1920&brdim=0%2C0%2C0%2C0%2C1600%2C0%2C1600%2C852%2C1600%2C692&vis=1&rsz=M%7C%7CpEebr%7Cp&abl=XS&pfx=0&fu=128&bc=31&jar=2023-01-02-09&ifi=5&uci=a!5&btvi=5&fsb=1&xpc=PBaZgrVAxL&p=https%3A//punchng.com&dtd=70733
The statement added, "We want to state here that Chief Obasanjo is not a good judge of character. He is a man who considers only himself as the all-knowing saint in Nigeria. Over the years, Chief Obasanjo has also convinced himself that integrity, honesty and all good virtues begin and end with him."
In its comment, the PDP noted that the endorsement of the Labour Party's standard bearer by the ex-President was not as important as the endorsement of the Nigerian people who have resolved to elect a credible leader in the 2023 general election.
'Endorsement not important
Speaking in a telephone conversation with The PUNCH, the National Publicity Secretary of the PDP, Debo Ologunagba said, "What is important is the endorsement of the Nigerian people. The endorsement of an individual no matter how highly placed does not translate to victory at the polls.
"As a former President, Chief Obasanjo has the right to endorse any candidate of his choice but we are very excited with the outpouring of support coming in for our candidate, Atiku Abubakar.
"The issues on the ballot are comatose economy, insecurity, hardship and despair in the land. The nation requires a steady hand, a man of experience and vision to address these challenges. What the country needs today are not men sharing their experiences at the state level. While we agree that these other candidates boast of experiences as governors in the past, none of them come close to what Atiku has.''
He added, "Our candidate was chairman of the National Economic Council that midwifed several initiatives and reforms that culminated in the reduction of the unemployment rate to seven per cent, banking sector consolidation, the revamp of the telecom sector that has today given millions of Nigerians opportunity to own mobile telephones. On his part, the spokesperson of the PDP Campaign Council, Senator Dino Melaye said, "Baba Obasanjo is talking his age. America, the most civilised democracy on earth, voted for over 70-year-old man. In a statement he signed and made available to the media on Sunday, Ologbondiyan said: "The Atiku/Okowa Presidential Campaign Organisation says the subjective support for the Labour Party presidential candidate, Peter Obi, by former President Olusegun Obasanjo is his wish which does not reflect the opinion or position of the overwhelming majority of Nigerians across the country." The SDP National Publicity Secretary, Rufus Aiyenigba said if anything, "Obasanjo's endorsement of Obi has enhanced the chances of our candidate, Prince Adewole Adebayo, considering that he ticks the boxes as espoused by the former president, Baba Obasanjo." He declared, "Prince Adewole Adebayo undeniably meets the Southern presidency advocacy of many as led by the former president and many other prominent national leaders. Adebayo meets the boundless and essential energy requirement for the top job; he meets the requirements of the deep grasp of transformational leadership and development issues, vision and soundness of mind, as well as the character and integrity quotient as listed." For the National Chairman of the All Progressives Grand Alliance, Chief Victor Oye, Obasanjo's support for the former Anambra State governor would not deter Nigerians from voting for the party's candidate, Justice Peter Umeadi. …As published by The Punch