Labour Party Inaugurates Edo Honest Youth Movement For Obidatti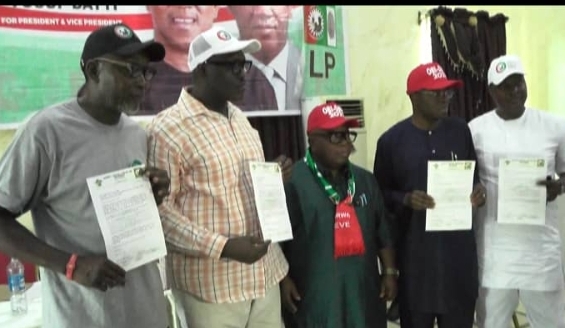 By Simeon OSAJIE
Nigerian youths have been told to ensure that they use their Personal Voters' Cards (PVCs) to recover the country which has been taken from them for years.

The National Youth Coordinator of the party, Hon. Raphael Nwadavid gave the advice while inaugurating the Edo State chapter of Honest Youth Movement for Obidatti in Benin City, Edo State capital.
google.com, pub-3120625432113532, DIRECT, f08c47fec0942fa0
Nwadavid said movement for Obi is a revolution which is already covering 19 States in the country, as the remaining states will also be inaugurated.
He appreciates the Movement of Edo people, promising that Edo will be the headquarters of Obidatti Movement.
"With what Edo people have done as regards the Obidatti Movement, I want to tell Edo people that the state will be made the headquarters Of "Obidatti Movement ".
Nwadavid accused some party leaders of playing double game with the party, stating that they are not true labour party men. He warned that they will fail in their evil plan.
In his welcome address, the State Coordinator, Sunny Dokpesi said we are working to turn the situation in the country around with our votes. Honest Youths Movement will work with all party members to ensure that our candidates win the elections.
He assured that the Movement will not fail in mobilizing votes to deliver Labour Party candidates nationwide. "In Edo we have started fully and the people are ready to vote and protect their votes."
The Edo State Chairman of Labour Party, Comrade Kelly Ogbaloi, who was represented by Ken Omozusi, said Nigerians are tired of the mess in the country. We are here to work hard to change the system. He enjoined all to be on board to make sure the party wins the election.
Addressing the party faithful, Ambassador Curtis Eghosa Ugbo, said when Obi/Datti came we knew Nigeria will be better. He said Nigeria today is nothing to write home about. "Our leaders has failed us. We feel for others, we must change the change. Obi/Datti has come, APC and PDP have nothing to show, Obi/Datti are God sent.
"Next month February 25 general election is the time the youth should take back what rightful belong to them and retire those old politicians who do not mean well for the growth and development of the youths in this country."
Comrade Ugbo urged Nigeria youths to consequently arm themselves with their PVCs to vote out the unprogressive and tyrannical politicians who are only concerned with their selfish gains to the detriment of majority of Nigerians who voted for them.
He urged Nigeria youths to be agent of change, tell the people the need to change the present system.
Also speaking, Mr. Peter Oba aka Specko G said that till date, he is a APC party leader but he can see that APC and PDP has failed Nigerians but because he wants a better future for his children, he decided to join the progressive Nigerians to support Peter Obi/Ahmend Datti campaign and glad to be a Coordinator for this great movement.
Among those inaugurated were Ralph Obasogie, Peter Oba aka Specko G, Ambassador Curtis Eghosa Ugbo, Sunny Dokpesi among others.