Ogun State Police Confirms Arrest Of All Suspects Involved In Assassination Of Ex-CBN Staff, Entire Family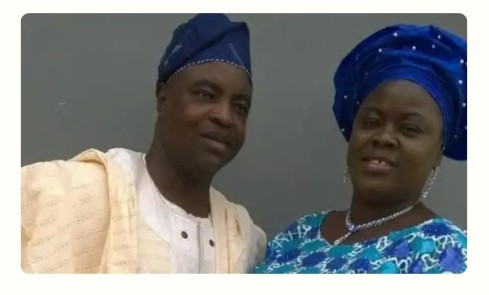 By EDITOR
The Ogun State Police Command has confirmed the arrest of all the suspects involved in the murder of a former Central Bank of Nigeria staff, Kehinde Fatinoye, and his entire family.
google.com, pub-3120625432113532, DIRECT, f08c47fec0942fa0
The State Police Public Relations Officer, Oyeyemi Bola, took to the micro-blogging platform, Twitter to confirm the arrest of the suspects involved in the incident.
Bola, in a brief Twitter post, wrote: "A// the suspects involved in the killing of the Fatinoye couple and their son on New Year's eve in Abeokuta have been arrested."
Recall on the 1st of January, it was reported that Fatinoye and his wife were allegedly murdered by assassins while they kidnap his son and maid.
The wife of the CBN staff until her death was a Principal Confidential Secretary at the Federal University of Agriculture, Abeokuta, FUNAAB.
A source also revealed that the criminals stormed their residence at Ibara GRA after they returned from the New Year crossover service.
According to the source, the assailants killed the couple and set them ablaze inside their house.
There were claims that the couple's son and domestic staff were reportedly taken away by the assassins.
The development was confirmed by the spokesperson of the Ogun State police command, Abimbola Oyeyemi,
He said, "It is true the incident happened investigation has commenced and somebody has been arrested in connection with the inccident. The man and his wile were killed and we are yet to find their son and the maid who were taken away."