Wike Threat To Nation's Democracy, Says PDP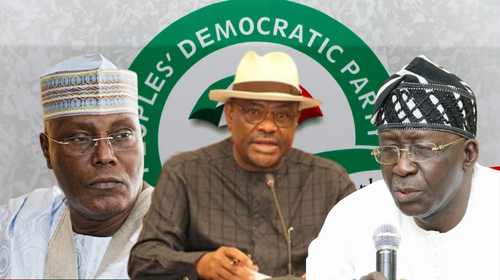 By Simeon OSAJIE

The Peoples Democratic Party (PDP) on Tuesday accused Nyesom Wike, Rivers Governor, of killing democracy in the state and country by hounding people who disagree with his views.
google.com, pub-3120625432113532, DIRECT, f08c47fec0942fa0
Spokesman of the PDP Presidential Campaign Council, Mr. Charles Aniagwu stated this at a news conference in Asaba where he urged Rivers people and Nigerians to vote Atiku-Okowa ticket to rescue the nation from its current travails.
He said despite Wike's opposition to Atiku-Okowa ticket, the party's Presidential candidate would not haunt the Rivers Governor or any of his allies for not supporting him.

He slammed the Rivers Governor for criticising Atiku's meeting with Rivers leaders in Abuja and blamed him for making it impossible for the party to hold its presidential campaign in the state.
"Wike is quarrelling on why we are meeting the Rivers State people i outside the state and claiming that those persons are not Rivers people. We met with critical stakeholders of Rivers who we believe would be able to talk to their people in Rivers for them to understand that Atiku and Okowa value them.
"But that Wike made it practically impossible for us to come to Rivers to campaign. And because we do believe that if we want to come to Rivers to campaign, giving Wike's position, he could take steps that would undermine the survival of a number of persons. That we are not ready to do.
"This is because we are very clear on the fact that our ambition is not worth the life of anybody, no matter how lowly placed that person may be. But we do know that our people in Rivers are very clear on the fact that Atiku means well.
"If Wike, rather than adding value to the human resources in Rivers, continues to deploy its resources to begin to insult every well-meaning Nigerian who have disagreed with him; Atiku is not going to take that path.
"We will by the grace of God, embark on the process of recovery, embark on the process of developing all parts of this country and making every Nigerian, including our brothers in Rivers, feel that they are Nigerians.
"So if anybody is thinking that because he has disagreed with us that we will come after them when elected, that is not going to be because it's not part of our manifesto."
He urged the Rivers Governor to stop fighting people with opposing views, adding that his action constitutes a threat to the nation's democracy.
"Governor Wike is asking his people to vote for a candidate who will protect him and not a candidate who will add value to the lives of the people of Rivers; you can see how selfish he has become.
"Atiku is a democrat and he knows that not everybody will agree with him in this election. By the grace of God, if elected, Atiku has no business running after Wike because that is not part of our manifesto.
"Atiku wants to bring unity to this country. He wants to bring back the jobs, he wants all the component units of this country to function effectively, he is interested in education that works for all of us; and above all, Atiku is interested in bringing back security so that our people can sleep with their two eyes closed.
"So I want Wike to be rest assured that Atiku and Okowa are in this election because of the need to address the many challenges confronting our country," Aniagwu said.
He called on Nigerians to be wary of undemocratic traits being exhibited by some Governors including Wike who does not allow opposition parties to campaign or hold meetings in their states.
"We were in Adamawa at the weekend, you could see the posters of all the contestants in this election, you could see billboards showcasing the candidate of the APC. But you go to Lagos, you can't even see a single one of the PDP.
"This is because they are afraid of even just billboards that do not talk even while they claimed that they are on ground. Wike says he is very much on ground in Rivers, yet he does not want people to hold meetings; people cannot even hoist billboards and fights everybody who pastes ordinary posters. Does this show that indeed he is on ground?
"You are testimonies to the number of meetings that take place here in Delta. Every political party is encouraged to hold meetings where ever they feel like holding meetings.
"This also includes the fact that their campaign offices are closest to Government House in Delta. This is because we know who owns the land and we do not need to be afraid of people holding meetings that are legitimate and democratic.
"So as Nigerians, we must know those who mean well with respect to our democratic journey. A man who is in charge of just a sub-set, is killing democracy like Tinubu has done in Lagos; where he even determines who goes to the Lagos State House of Assembly.
"How can such a person become a president? This means he would hand pick who becomes the governor of every state. For Wike who has not allowed people hold ordinary meetings just because they disagree with him; imagine promoting such persons to be part of a national government?
"So Nigerians must know what we are up to, that we must elect those who will protect our freedom and understand that they do not hold exclusive right to the pathway to recovery.
"We believe that as individuals who mean well for recovery, that we are going to work with all Nigerians. That is why I repeat that our motto in all our advert is 'As One, We Can Get It Done'.
"By the grace of God, if Atiku and Okowa are given the opportunity to govern this country, we will take people from APC, Labour party to work with us so long as they have the ability to make a difference.
"We will take Nigerians that are not in any political party to work with us as long as they can make a difference. We will also work with Nigerians in diaspora because this country belongs to all of us."
Going further Charles Aniagwu added, "Every Nigerian is encouraged in this election to vote for their freedom and that freedom would not come from those who do not believe in democratic principles.
"To vote for the path to prosperity for this country, that path cannot come from those who did not make any difference in our lives in the last seven years, rather they took us far backwards beyond where we were in 2015.
"So if he feels he has done so many things against the law, let him go and do the right thing. But for his position on this election, we will not by the grace of God, when given the opportunity to govern this country; question his choice.
"But let Wike stop behaving like a tout in the motor park. Let him behave like a governor that he is, instead of subjecting the institutions of governors to a laughing stock.
"He should know that as a governor, there is a way he should behave, and not him conducting live coverage just to haul insults at people. We are also aware that he will still organise live coverage between now and election to bring up series of allegations; all because he is too scared of Atiku's victory; but Nigerians know better."