Edo APC Celebrates Oshiomhole @71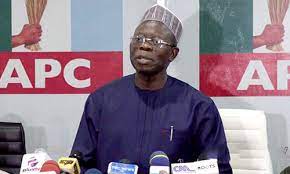 …Says his contribution to nation building are immeasurable
By Simeon OSAJIE
google.com, pub-3120625432113532, DIRECT, f08c47fec0942fa0
Edo State chapter of the All Progressives Congress (APC) felicitates with the former Edo State Governor, former National Chairman of the Party and Edo North APC Senator- elect, Comrade Adams Aliu Oshiomole as he celebrates 71 years old today.
In a press release issued and signed by the State Publicity Secretary of the Party, Peter Enoserogbe Uwadiae Igbinigie Esq. and made available to newsmen in Benin on Tuesday 4th March, 2023, the APC extols his numerous contributions to nation building which it noted are immeasurable.
The statement reads: "The indefatigable Comrade Senator-elect; we are glad to join your numerous supporters, admirers, well-wishers, friends and family members to rejoice with you this day as you mark your new age of 71 years.

"It is difficult finding the right words to describe your personality; charismatic and enigmatic who has winning struggles; imbedded in his DNA!
"We want to give all the glory to God Almighty for life, good health and fitness, all the achievements and even the challenges in your earthly journey so far.


"APC Edo State Chapter is very proud to have you; not only as one of the valuable leaders of our great Party, but a son of the soil we all can look up to at all times.
"As you celebrate today Sir! We wish you continued God's protection, more abundant good health and fitness, and fulfilled years ahead!
"Once again we say congratulations and more power to your bones!"