Emefiele: Probe INEC, Not CBN, LP Tells Tinubu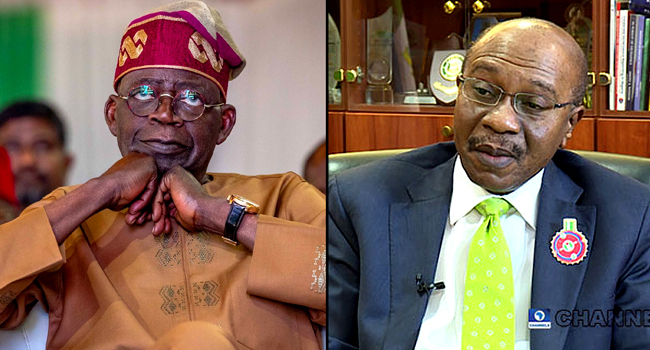 …says suspension unconstitutional, vindictive, not in good taste
By Simeon OSAJIE
google.com, pub-3120625432113532, DIRECT, f08c47fec0942fa0
Labour Party (LP) has urged President Bola Tinubu to investigate the Independent National Electoral Commission (INEC) and not the governor of the Central Bank of Nigeria (CBN), Godwin Emefiele.
Tinubu had on Friday suspended Emefiele citing an "ongoing investigation of his office and the planned reforms in the financial sector of the economy".

But in a statement by the LP spokesman Obiorah Ifo, the party faulted the move, claiming it was unconstitutional.
"It is laughable to read that statement as most Nigerians are already aware of the intention of the government. If indeed, there is any government agency that should be investigated with this utmost urgency, should it not be the Independent National Electoral Commission, INEC and its Chairman, Prof. Mahmood Yakubu?" the statement wondered.
"The leadership of the Labour Party is disturbed by the decision of President Bola Ahmed Tinubu to suspend/sack the Governor of the Central Bank, Godwin Emefiele, albeit unconstitutionally without seeking the permission of the national assembly and we insist that the action was not in good taste and sounds punitive," the party added.
LP recalled the naira swap policy of the Emefiele-led CBN which it claimed hurt the political class, adding that the former apex bank governor was just the "fall guy" whose "sin" of doing the currency redesign must not be forgiven.
It referenced a 2014 comment by the then-Minority Leader of the House of Representatives Femi Gbajabiamila which faulted ex-President Goodluck's Jonathan removal of Sanusi Lamido as the CBN chief on the basis that the Nigerian leader had no such powers.
LP, however, wondered what changed now.
"Most Nigerians will not forget in a hurry the famous Naira redesign policy initiated by Emefiele primarily to check vote buying in the last general election. A noble policy which a particular candidate then, unfortunately, believed was targeted at him. To him, it was a mortal sin which cannot be forgiven and must be punished. Labour Party believes that Emefiele, a fall guy, is paying for his "sin"," the statement read in part.
"Finally, we urge the APC led government to carry out a thorough investigation of the CBN and particularly, the last APC government's interference in the operation of the apex bank. Nigerians will not tolerate political and peripheral investigation. We suggest a forensic auditing by an independent firm and by so doing, maybe the real culprits, not just Emefiele will be unearthed."