STREET BEGGARS IN BENIN: Edo PS Expresses Deep Concern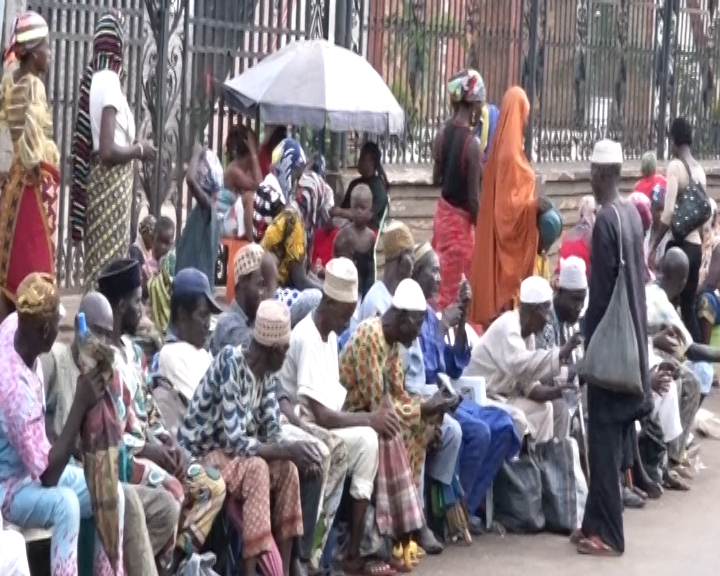 …As parishioner calls on govt to remedy the menace
…""Gun shooters came to our village, killed my wife, my two children and I was able to ran away" – beggar
google.com, pub-3120625432113532, DIRECT, f08c47fec0942fa0
By Simeon OSAJIE
Due to harsh economic condition of the country, some Nigerians have become homeless and have resorted to begging to make ends meet. In Benin City, Edo State capital for instance, beggars are found on the major streets such as Mission Road, Akpakpava Road, Sakponba Road, Lagos Street, Ring Road to mention but a few.

It was observed that many of the beggars come from different parts of the country, especially from the North and have different tales to say about their life experiences that have driven them to live on the street.
According to Ibrahim Dauda one of the beggars: "we just came here to source for daily bread because some gun shooters came to our place in the North and drove us away. They killed my wife, two of my children and I was able to run away. I'm a mechanic as you see me so it's not my happiness to come here to do begging. I beg government of Edo State to help me so that I can go back to my place."
Another beggar ThankGod Eze said "most time, we sleep outside, l mean the entrance of store along mission road. The shop owner do accused us that we are the ones breaking into their store and steal their properties. I beg government to put more efforts to assist us and take us out of the street. I need government assistance to that I can learn work, so also all these small boys and girls who also joined us in begging to that they can go back to school."
Chibuzor Eke is another beggar. He said that due to some circumstances, he find himself begging in other to survive. "I've been here for more than six years now because there are some certain things that fall upon me which is what I did not do that pushed me to the streets but now I'm just living in the street because I do survive here because there's no job to do, no work to do, we are all left alone, so I live and survive in the street. I came to Benin to stay with my aunt but out of frustration; even my aunt said I'm talking about he's still living on the streets, so I don't want to see her with my eye because she also staying on the street. The only help we have is God."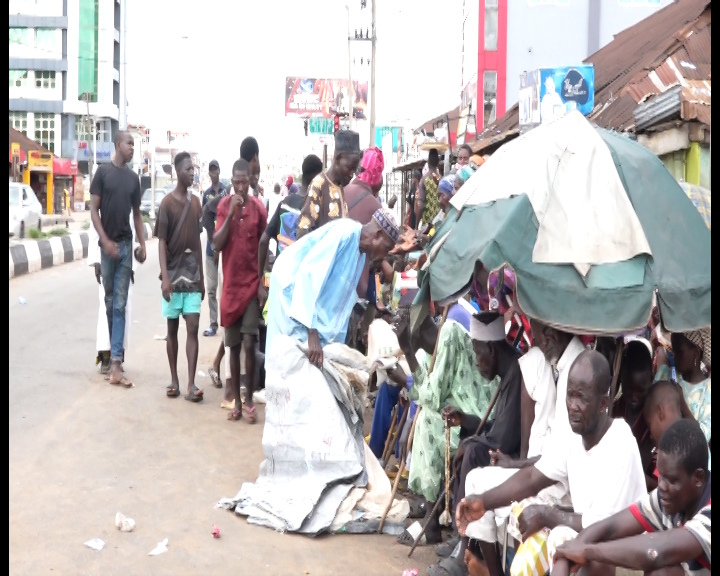 In an interview with the Permanent Secretary in the Edo State Ministry of Women Affairs and Social Development, Mrs. Barbara Nekpen Osobanjo said the ministry was aware of the menace of street begging and had put in place plans to deal with which she termed an eyesore. She disclosed that displaced persons are camped by the state government.
"The government is aware of the menace that is on the streets of Benin and it is part of our responsibility to ensure that such children, because you know that they are out of school right now but one thing we must know is that most of them are not from the state. What I meant is that they are non-indigents, so it's very important that in tackling this issue, we have to put in a lot of other things into consideration.
"For instance, one of the things one would do is that you have to do what we call contact tracing; we have to find out whether these children have parents that are alive, where these deliberate measures to dump them in another state or were they kidnapped, were they trafficked to Edo State? So those are the salient questions that we seek to first unravel and then we deal with it.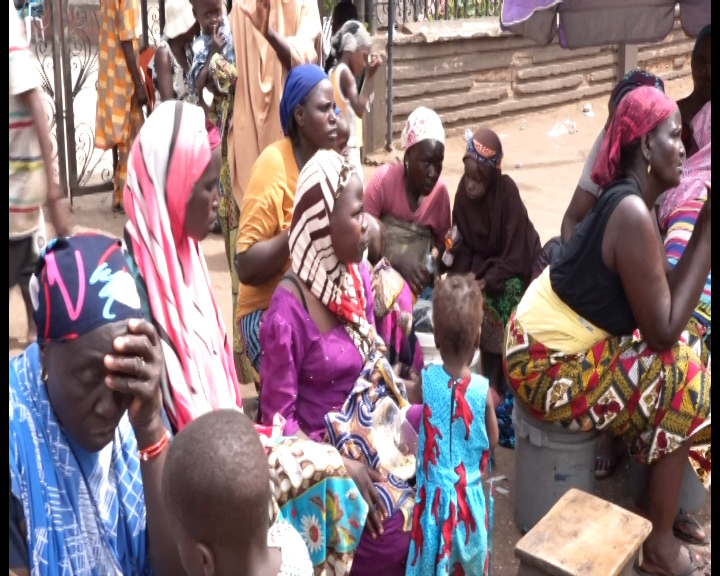 "It may interest you to note that His Excellency has given us clear mandate and ensure that we see it as part of our duty. The mandate given to us is one; clean up the streets and when you are cleaning up the streets; what that means is that you do proper placement of these children, ensure that the ones that the families can be traced you take them back to their families and the ones that have long been here you can take them in for care and protection," she said.
Going further, she added: "The government has some shelters in the state. Last year we did a raid where some children were taken away from the streets and we put them in some homes for proper care and protection, so that is still ongoing now. What you see along the streets of Benin, like Ring Road, Mission Road, Akpakpava Road, Sakponba Road, etc., I will tell you that it is an eyesore.
"In fact, last year we've had a meeting with the various groups and stakeholders in the state where we talked about this manners and it was very clear that something urgent needs to be done."
She appealed to those trafficking children to other States to engage in begging to please stop. According to her, "the truth of the matter is that their own children are not on the streets, so these are other people's children, so you should do to others what you want done to yourself and your family. For you to take another person's child and bring to other states, it's totally despicable.
"For the women – there are some women that have a certain skill which we can also help to upgrade. So, the ministry is here to assist you to ensure that you live well and live better life than what is currently happening," she assured.
A parishioner of the Holy Cross Cathedral, Dr. Cyril Osezele Ogbeni who spoke on behalf of the Parish Priest of the church expressed deep concern about the menace the beggars have turned the entrance of the church to their home.
"The beggars are increasing day by day. Initially they started as if it was a child's play, maybe just two or three persons but before you knew it, it has become a battalion; besides it's even spreading beyond Holy Cross – going towards Mission Road towards Ring Road and so might even migrating towards a New Benin.  So it's a very terrible situation.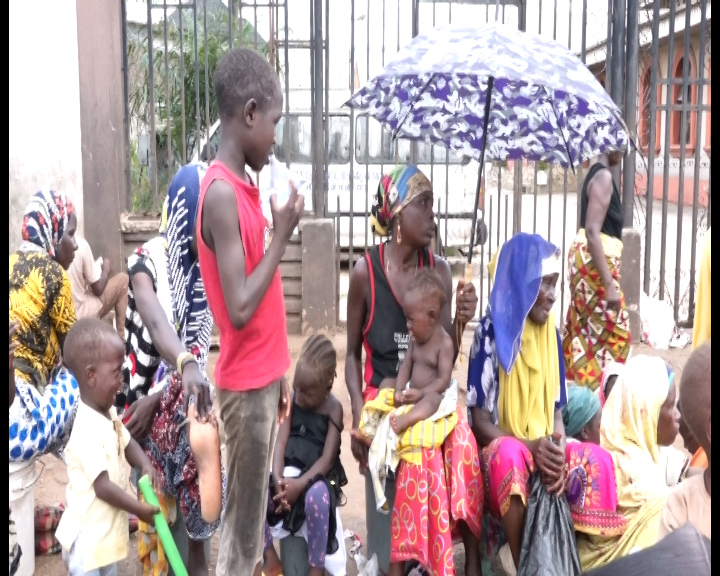 "In fact the church has made several efforts to reach out to government officials, written to the governor, the police and all that they seem to be helpless in this menace, it's even a big threat to the church. As we speak now there are some persons who are coming to the church, maybe they have a ceremony or thereabout and they buy some items, sometimes this beggars – they hijack the items, some of them are able-bodied people who are strong enough to engage in meaningful things.
"Basically they come here and they are causing a lot of problems, you know sometimes they really want to attack some church members especially when they are very few or they see the vulnerable ones they attack them and get rid of their useful belongings, so it's becoming a very terrible situation. In some occasion, they attack motors here and some of these vehicles are vandalized, so it's quite appalling and it's sad that I don't know whether the government is helpless but it's sad to know that despite all the administration to the government that nothing has been done about it," he said.
In an interview, the Chairman of the Hausa Community in Edo State, Alhaji Badamasi Saleh said they were aware of the menace of the beggars to the society and are working with the state government to solve it. He said the recent dissolution of the State Executive Council has affected the resolution of the problem.